How Banks Quickly Check Sanctions Lists So It's Not Too Late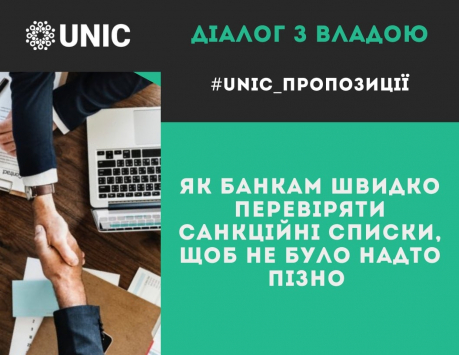 Integrity, decency, reliability is now easily verified due to the digitalization of relationships between counterparties. Especially when there is an integrated third-party cheque in the compliance process.
In 2021, to streamline and make more convenient access to information on the application of personal special economic and other sanctions, The National Security and Defense Council of Ukraine (NSDC) launched a single portal List of individuals and legal entities in respect of which sanctions were applied. While the Portal is working in a test mode, the banks participating in the UNIC expert group could test its work for compatibility with their systems and develop technical recommendations.
Among the important improvements, banks propose to provide a quick Portal data update - within one hour after the adoption of the Decree on the sanctions application. After all, delays in updating data for banks can be expensive.
More details on the proposals that the UNIC Banking Expert Group submitted to the NSDC, NBU, and The Ministry of Foreign Affairs can be found at the link (Ukrainian version): https://www.dropbox.com/.../UNIC_letter_%20portal_22_06...
We believe that such changes will facilitate the work of banks and help prevent the use of the Ukrainian banking system for money laundering and the legalization of proceeds from crime.
Single portal List of individuals and legal entities in respect of which restrictive measures have been applied: https://sanctions-t.rnbo.gov.ua/