Webinar "Charity without risks" of the UNIC summer series "Wartime Compliance"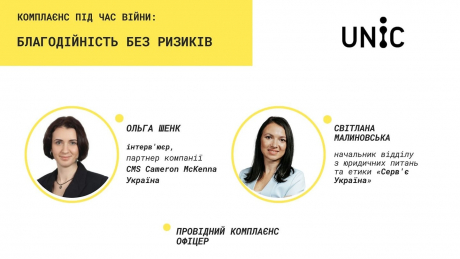 In wartime, charity became an everyday activity for Ukrainians. And businesses are no exception. Since it became clear to all of us that victory is impossible without unity and joint work. In addition, engagement in charitable projects improves a private company's reputation and demonstrates its reliability. Moreover, constant support of charitable funds indicates the company's stability and sustainability.
However, there are always risks associated with any activity in a crisis situation with hasty decisions. For example, typically, there is a risk of fraud in emergencies with a lack of control and the presence of people who would take advantage of the situation for their own benefit. Therefore, the issues of setting up and checking processes related to charitable or other financial support are very relevant for business. Then, what to look out for?
UNIC experts will talk about compliance in the context of companies' charitable activities during the UNIC summer series webinar "Wartime Compliance. Charity without risks". The webinar will hold on August 26 (Friday) at 12:00 (Kyiv time), ZOOM platform.
Among other things, experts will share insights on minimizing financial and reputational risks, including preventing accusations of funds misspending and targeted attention from regulatory authorities. Speakers will highlight the fundamental principles of documenting all aspects of a company's charity and the intricacies of wartime recipient and supplier verification. Attention will also be paid to risky charity types (dual purpose goods, donating to the state or other business, pro bono services, and volunteering of employees), as well as the issue of cooperation with charitable funds and payments to non-resident suppliers.
The following speakers will take part in the discussion:
Please register at: https://bit.ly/3weet1c
After registration, participants will receive a link to access the webinar (ZOOM) and a calendar reminder of the webinar.