Ukrainian Network of Integrity and Compliance Officially Launches Operations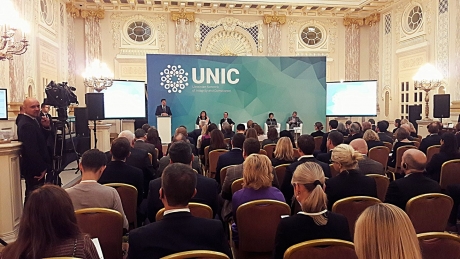 The Ukrainian Network of Integrity and Compliance (UNIC) officially launched its operations in Ukraine. The network brings together responsible businesses throughout Ukraine and promotes the idea of doing business ethically through educational events, developing exemplary policies, and evaluating the members' compliance on the annual basis.
UNIC established the list of its current members and governing bodies, sources of financing, objectives and tasks. Now, UNIC comprises 42 Ukrainian and international companies, 17 of which have joined over the past four months.
The Initiative Group, which included 46 companies in May, went through self-assessment questionnaire based on ISO 3701 standard as well as open data screening. The companies committed themselves to improving their level of business integrity or take steps towards its implementation. In a year, each company will report on the results achieved. If the company fails to fulfill the commitments within 2 years or raises any reputational suspicions, membership will be revoked.
UNIC governing bodies were also approved at the Founding Meeting. The Executive Committee is made up of Podilskyi Tsement PJSC, Oriflame Ukraine LLC, KPMG Ukraine, Sandoz Ukraine LLC, KTD Group LLC, ORGANIC SYSTEMS farming company, Business Ombudsman, representatives of the OECD and the Ukraine Investment Promotion Office in Ukraine. The Committee will be responsible for day-to-day activities of UNIC and will represent it before the public. The Ethics Committee responsible for monitoring the members' compliance and tracking violations was also established.
ЧUNIC members agreed to support the Network's sustainability through annual membership fee. Depending on the number of employees and annual revenue (or the number of participants for business associations), the fee will range from 100 to 3,000 EUR. International donors, such as EBRD and the OECD, will also support the project.
"Basically, the fight is usually waged on the side of the demand against corruption. Instead, we focus on the offer – if business behaves ethically, this reduces unlawful acts. One of the key objectives of UNIC is to provide companies with tools and procedures to implant compliance into their business core", , stressed Algirdas Šemeta, Business Ombudsman of Ukraine, the initiator of UNIC. He added that the initiative is nationwide and aims at bringing together businesses showcasing integrity in Ukraine regardless of size and region.
Applications to join UNIC are still being accepted. Companies wishing to join the network should fill in the questionnaire via www.unic.org.ua website. Each candidate will undergo the open data screening. Reports with results will be passed to governing bodies to decide on the approving or rejecting the membership. Any company or business association can join the Network regardless of its size or area of activity. The key to becoming a member is to favor a high standard of integrity and compliance in doing business.