The impact of martial law on the financial sector of Ukraine.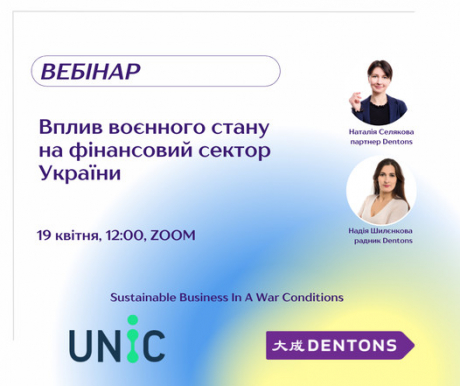 Experts from the international company DENTONS will tell about how the banking system works during the war, what to expect on the capital market and the activities of Ukrainian judges during an open webinar (Dentons Kyiv Office).
The impact of martial law on the financial sector of Ukraine
#Sustainable_Business_InWar_Conditions
Questions for discussion:
· Functioning of the banking system
· Functioning of the capital market
· State registers and registration procedures. Activities of Ukrainian courts
· Restrictions applicable to residents of Russia
· Certification of force majeure
WHEN: April 19, 12:00, ZOOM
SPEAKERS:
Natalia Selyakova, Dentons partner
Nadiya Shilenkova, Dentons Advisor
REGISTRATION at: https://forms.gle/XNVHNyyErUofUigv5
Video recording and live broadcast will be available here - on the UNIC FB page.
You can always find all the videos and subscribe to the new ones on the Youtube page of the Network: https://www.youtube.com/channel/UCfMNFZtK-Q8Ax0HJbxVy7og
Short biographies of speakers:
Natalia Selyakova is a partner at Dentons' Kyiv office and head of the banking and finance group, as well as restructuring and insolvency practices in Ukraine. Natalia has a deep knowledge of Ukrainian law and international practice, complex international operations and instruments. Natalia participated in the development of legislation on currency liberalization, analysis of international standards and best practices on legislation governing liquidation netting, currency derivatives, fintech issues.
Nadiya Shilenkova is an advisor at the Dentons office in Kyiv. She has extensive experience in advising clients on banking and financial law in the context of international financing agreements, debt restructuring and the acquisition of bad debts, export financing, capital markets, derivatives and more. Hope also has significant experience in FinTech legislation and other innovative technologies in the financial sector.
#Sustainable_Business_InWar_Conditions #UNIC #economy_Ukraine #WarInUkraine #compliance #integrity #compliance #StandWithUkraine
Take care of yourself and your family!
Glory to Ukraine!