Welcome to the new UNIC member - National Power Company Ukrenergo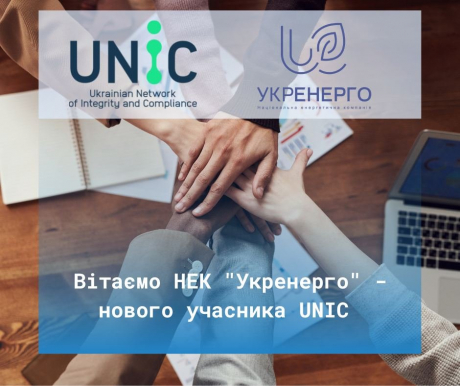 We are happy to welcome the National Power Company @ Ukrenergo to the UNIC community. The company successfully implemented Memorandum on Partnership and became the first Network full member among the state-owned companies of Ukraine!
Our cooperation began in February 2019, when Ukrenergo became the first partner of UNIC among state companies. We signed the Memorandum and developed a "road map" for the Ukrenergo compliance system.
Despite the war, "Ukrenergo" was actively working on implementing the integrity principles in the company's activities and showed the example of reforming public sector companies and implementing best international practices.
"It is a great pleasure and honour for us to work with state-owned companies that prove the importance of implementing compliance policies. We are glad that such a strategically important enterprise for our country, especially during wartime, has successfully implemented a memorandum plan, confirmed its high business reputation on the market and is working on improving its own integrity principles," - said the Head of the UNIC Secretariat, Antonina Prudko.
"Ukrenergo considers compliance as a tool for building the appropriate corporate culture. It contributes to the long-term strategy implementation in our company. During the war, the importance of compliance increased. It is related to the energy security, as well as the state security in general. Our compliance system is built on the Organization for Economic Cooperation and Development (OECD) standarts, which is a recognized European standard. Building compliance system helped us to be the first among state-owned companies to attract international financing to support the stable operation of the company and the energy industry in wartime. This way compliance helps us to survive", - said Volodymyr Kudrytskyi, Ukrenergo Board Chairman.
Information about Ukrenergo on the UNIC website is available by the following link.