Verkhovna Rada of Ukraine adopted the National Anti-Corruption Strategy for 2021-2025!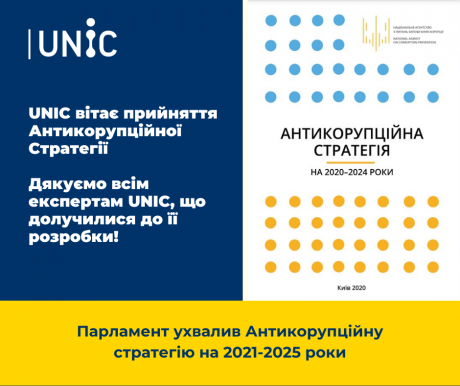 Verkhovna Rada of Ukraine adopted the National Anti-Corruption Strategy for 2021-2025!
This is a small victory for us because the Ukrainian Network of Integrity and Compliance as well as many other Civil society organizations and international experts worked on its draft together with the NACP. In particular, business integrity strengthening and promoting the private sector and among SOEs were recognized as a priority. The recommendations provided by the UNIC expert groups regarding integrity in the private sector, SOEs, and preventing measures of corruption in the health sector were taken into account in the current version of the Strategy.
It is symbolic that just last week during the UNIC Meeting General 2022, together with representatives of the government, leading international and Ukrainian experts, and heads of major companies, we've discussed the important steps to be made by the Government and businesses to implement the OECD recommendations for Ukraine and demonstrate the European aspirations of Ukraine. In our join to-do list, we have promoting of the business integrity culture, introducing virtuous best practices for both private companies and SOEs.
Please follow the link below to see all expert discussions at the UNIC General Meeting 2022:
https://www.facebook.com/UNICcommunity/videos/352556613615365
"Participants and UNIC expert groups have made efforts and professional support to ensure that the Anti-Corruption Strategy has among its priorities business integrity culture promotion. We are welcoming the adoption of the strategy and are happy that Ukraine is already implementing the OECD recommendations. Today is a good step forward for all of us. But there is still a lot of work ahead since the AntiCcorruption Strategy is only a vision of our common framework. As a Network, we are ready to join. We are already entering the development and further implementation of the state program on the performance of the Anti-Corruption Strategy and the recovery and reconstruction plan of Ukraine," - commented Antonina Prudko, Head of the UNIC Secretariat.