Webinar "Work with employees after moving abroad: tax and legal challenges"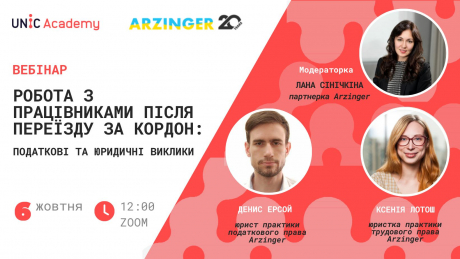 Russia's full-scale invasion of Ukraine forced a lot of Ukrainians to leave their homes, but many of them still continue working remotely for Ukrainian companies.
This change in the "game's rules" became a challenge for businesses and opened up new problematic issues. That is why UNIC and Arzinger within the UNIC Business Integrity Academy are organizing an event at which Arzinger's labor and tax lawyers, during the Webinar "Work with employees after moving abroad: tax and legal challenges," will help find answers to the challenges that Ukrainian businesses face today through the relocation of employees.
One of the issues that most worries Ukrainian employers and employees is the tax consequences of the work for Ukrainian employees from abroad. During the webinar, experts will pay special attention to the tax status of such Ukrainian employees, the criteria for tax residency in Ukraine and other countries, and the methodology for determining tax liabilities (in which country to pay taxes and how much).
In addition, the participants will consider the explanations of foreign tax authorities regarding the situation with Ukrainians who left because of the war and Ukraine's initiative to solve the problem of double taxation of Ukrainian employees.
Most of the challenges are related to the legal aspects of cooperation between employees and employers after relocation. Experts will consider issues related to the formalization of the relations when remote work is impossible, explain the foreign co-operation aspects, how to organize documents exchange and messages in new conditions, and how to correctly formalize the employees' dismissal who are located abroad.
Moderator: Lana Sinichkina, partner of Arzinger
Speakers:
Denys Ersoy, a lawyer of Arzinger tax law practice

Ksenia Lotosh, a lawyer of Arzinger labor law practice
WHEN: October 6, Thursday, starting at 12:00 (Kyiv time).
FORMAT: interview-discussion, Zoom
WARNING! The number of places is limited, and it is a priority for UNIC members.
Registration via the link: https://forms.gle/5JEsLUaTzWBQoVs2A
After registering, you will receive a link to access the webinar (Zoom). A webinar reminder will also be added to the calendars of registered participants.