The "Anti-Corruption" video course for small and medium-sized businesses has been launched in Ukraine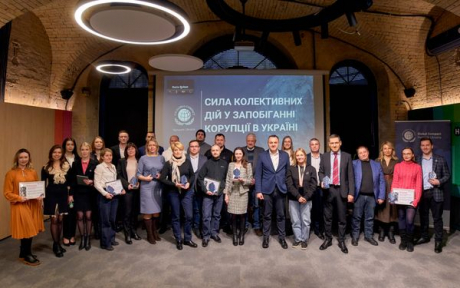 The "Anti-Corruption" video course for small and medium-sized businesses has been launched in Ukraine

On February 9, our partner The UN Global Compact Ukraine held the "United Against Corruption" event, where the organisation presented the educational video course "Anti-corruption" for small and medium-sized businesses and awarded the companies that worked on its development as a part of the working group.

The course development took more than two years as part of the Anti-Corruption Collective Action program of the UN Global Compact Ukraine. UNIC experts had the opportunity to join the implementation of this initiative two and a half years ago. The Network has undertaken the strategic task of working together with responsible Ukrainian businesses on the topic of integrity in the Ukrainian private sector.

According to Antonina Prudko, the head of the UNIC Secretariat, it is extremely important for the Network to join such initiatives in order to promote the transparency of doing business and improve Ukraine's position in global integrity ratings:
"The topic of anti-corruption is extremely relevant today, and it will definitely be in demand after the war on the way to rebuilding Ukraine. Many international donors and partners already intend to support the recovery of our country, and for this Ukrainian business needs to meet global standards of integrity. That is why our Network and its members are ready in every possible way to support the popularization of the topic of transparency and integrity in conducting Ukrainian business. It is an honour for UNIC to be a part of the team and contribute to the creation of the course. We thank the organizers for their trust and hope that as many entrepreneurs as possible will gain useful knowledge from the video lessons and put them into practice".

The "Anti-corruption" video course was created with the informational support of the Ministry of Digital Transformation of Ukraine and our partner, the Entrepreneurship and Export Promotion Office. In total, more than 50 Ukrainian experts from the private and public sectors joined the creation of "Anti Corruption". That is why this project is unique because it was developed by entrepreneurs, focusing on problems and challenges that are important to them.

The video course contains 5 training modules, each lasting to 8 minutes, which ensures fast and effective learning. You can take the course at https://cutt.ly/T3hi81d

The educational series will be posted on the Diia.Business portal and the Diia.Digital education.