OPEN LETTER TO THE CABINET OF MINISTERS OF UKRAINE ON THE SUPPORT OF AUTHORIZED PERSONS ON COMPLIANCE DURING WAR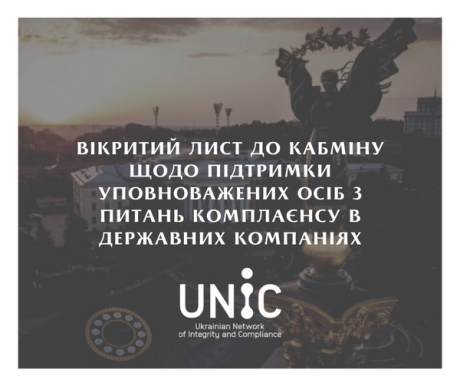 OPEN LETTER TO THE CABINET OF MINISTERS OF UKRAINE ON THE SUPPORT OF AUTHORIZED PERSONS ON COMPLIANCE DURING WAR
The Ukrainian Network of Integrity and Compliance (UNIC) addressed an open letter to Denys Shmyhal, the Prime Minister of Ukraine. In our appeal, we ask to support the authorized units (authorized persons) in compliance and prevention, counteraction, detection of corruption in state-owned companies and prevent suspension of employment contracts. After all, their dismissal can lead to the loss of competencies and entire functions and teams of specialists, which can jeopardize any positive transformations that have been built over the years.
Integrity, especially at this difficult time, should be a basis of company. Today transparent and ethical business conduct helps to combat corruption and prevent financial losses systematically and promotes international partnership, Ukrainian business entry into global markets, and increases the confidence of international investors.
Authorized subdivisions (authorized persons) must continue to exercise their powers, including compliance with the law and the prevention and detection of corruption, so these positions and structural subdivisions should be retained in the organizational structures of the Companies.
The full text of the letter is available for viewing at: https://drive.google.com/.../14gFrP13lq8uPLeAuEep.../view...