JOINT MEETING OF THE UNIC WITH THE STATE FINANCIAL MONITORING SERVICE OF UKRAINE AND THE INDEPENDENT ASSOCIATION OF THE BANKS OF UKRAINE WAS HELD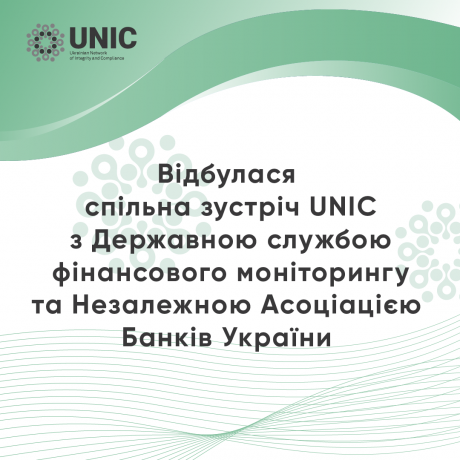 February 18, a working meeting was held under the chairmanship of the First Deputy Head of the State Financial Monitoring Service of Ukraine - Haievskyi Ihor on the introduction of a unified database of special economic and other restrictive measures (sanctions). The meeting was attended by Tetyana Korotka, Deputy Business Ombudsman, the representatives of the UNIC Banking expert group and Independent Association of the Banks of Ukraine.
The purpose of the meeting was to discuss the need to introduce a unified recognized database of sanctions to prevent the risks of financial transactions by persons listed in the sanctions list and to join efforts of representatives of banking and other business communities with public authorities to update sanctions legislation. This will improve business risk management and introduce international best practices in Ukraine.
The State Financial Monitoring Service management expressed full support and cooperation with business associations to further work on these issues. The meeting participants agreed that the lists of terrorists maintained by the State Financial Monitoring Service are convenient to use. However, while conducting financial monitoring inspections, banking and non-banking institutions should analyze other sanction lists, which have different formats and are not always convenient for analysis and use. The State Financial Monitoring Service noted that it has been working long on improving sanctions policy within its competence and expressed support for the UNIC initiative to involve in dialogue and coordinated cooperation between all public authorities responsible for formulating and implementing public policy in this area.