UNIC invites you to join the Independent Selection Committee experts of the grant program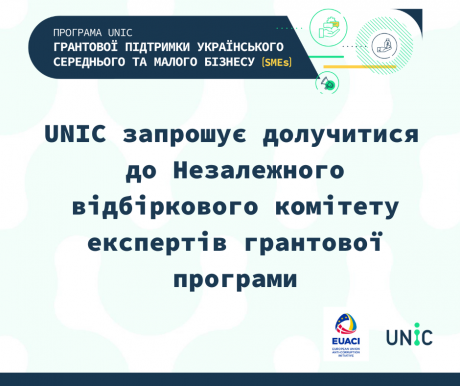 Do you have experience in setting up successful compliance systems? Do you understand risk compliance assessment or what is the "tone from top" and counterpart's verification? Ukrainian medium and small businesses need your help!
UNIC launched its grant support for Ukrainian medium and small businesses (SMEs) and we are looking for experts who will be able to evaluate participants` applications and select the best ones to receive a grant for the compliance system development.
You can read more about the grant program at the link: https://bit.ly/3eSWmbq
Join the Independent Selection Committee of experts who will help us to select domestic enterprises that will build successful compliance systems thanks to the UNIC grant program.
We invite to join the Independent Selection Committee:
leading experts in Business Integrity and building a compliance system,
representatives of international organizations (EBRD, OECD and others)
business representatives who have a high business reputation and are opinion leaders in the field of business integrity, having successful experience working with small and medium-sized businesses.
At the Independent Selection Committee meetings, there will be application evaluation and interviews with candidates for grants. The Independent Selection Committee is expected to hold approximately three meetings and conduct interviews with pre-selected candidates.
The work of the Independent Selection Committee within the grant program pilot stage is free of charge on a voluntary basis.
To participate in the Independent Selection Committee, send us your motivation letter and CV to e-mail info@unic.org.ua by October 7.
The decision to approve the Independent Selection Committee participants is made by the UNIC Executive Committee.