OPEN CALL FOR VACANCIES IN THE UNIC ETHICS COMMITTEE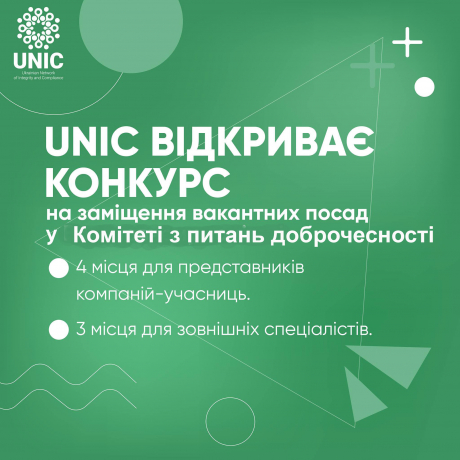 A total of 7 vacancies have been opened – 4 places for representatives of the companies participating in the Network, 3 – for external specialists.
Candidates for the position of a member of the Ethics Committee should have an impeccable business reputation, high professional and moral qualities, public image, as well as demonstrable tangible experience in the field of prevention and/or combat of corruption.
To participate in the selection, you must submit a CV and motivation letter by e-mail to: info@unic.org.ua. The subject of the letter should be "UNIC_Application for the position of a member of the Ethics Committee". Deadline for applications: by the end of the working day on October 8, 2020. Information from public sources will be checked for each candidate. Based on the results, the UNIC Executive Committee will select the winners and approve the new composition of the Ethics Committee.
The term of office of a member of the Committee is two years. The activity of a member of the Committee is carried out on a voluntary basis. The main authorities are to develop and submit proposals for the adoption and interpretation of standards of integrity of Network members (policies, rules, procedures, other documents), consideration of verification reports of Network members and membership applicants. In case of negative information about the company, submission to the Executive Committee of proposals for admission of a candidate, termination of membership in UNIC and others specified in the UNIC Memorandum of Partnership.
The UNIC Secretariat expresses its sincere gratitude to the current members of the Committee for their professionalism, exceptional integrity and efficient work throughout their term of office. We remind you that the current members of the Ethics Committee can submit their candidacy for the next term.