"Ukraine should join the OECD," said William C. Danvers, former deputy general secretary of the OECD, in a column for The Hill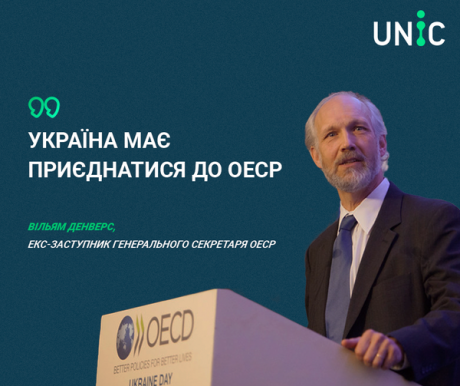 "Ukraine should join the OECD," said William C. Danvers, former deputy general secretary of the OECD, in a column for The Hill.
"As difficult as it is to look beyond the war raging in Ukraine, it is important to implement a plan for stabilizing post-war Ukraine now. Once the war is over, the pent-up demand from the Ukrainian people for economic recovery, political responsiveness, and stability will be clear. Ukrainians deserve to know that they will be welcomed into a group of nations that support democracy, human rights, and an open economy," the expert said.
For example, in June 2022, the EU indicated that Ukraine is an official candidate for membership but that joining the union will take time and will be a complex economic and political process. Becoming a NATO member, which Ukrainian officials see as part of their future defense strategy, will be even more difficult. However, it is clear that NATO countries are united in their willingness to support Ukraine in its fight against putin's aggression.
Another - and more immediate - way to express support for a democratic Ukraine is to invite the Organization for Economic Co-operation and Development (OECD) to become a member now. The OECD is a global organization with 38 members from Asia, Europe, and North America. It is the only international organization whose members are not Russia but the G7 countries. The organization develops best practices and policies related to anti-corruption, good governance, environment, technology, and other important issues.
The OECD has played a key role in helping former Soviet-controlled Eastern European countries such as Poland, Hungary, and the Czech Republic make the transition from non-market to market economies. The organization can provide the Ukrainian government with technical advice and expertise on a wide range of economic issues to help it prepare for a post-war future focused on economic stability and growth. By inviting Ukraine to become a member now, the OECD Council emphasizes its belief in Ukraine's ultimate victory over Russia and its future based on sustainable democracy.
Cooperation between the OECD and Ukraine intensified after the Revolution of Dignity and Russia's annexation of Crimea and part of Donbas in 2014.
Since 2014, the OECD and the Government of Ukraine have been working under a Memorandum of Understanding (MoU) to assist Ukraine in governance, anti-corruption efforts, and related issues.
OECD's current efforts in Ukraine include the following:
practical programs for work in state government;
helping Ukraine resolve the refugee crisis;
Assisting small and medium enterprises in the transition to digital platforms;
help with postwar environmental standards;

fighting corruption through law enforcement capacity-building projects, training courses on corruption detection and investigation, and reviewing Ukraine's progress in accordance with the criteria set by the OECD Working Group on International Bribery.
"Ukrainian officials have expressed their desire to join the OECD. Their courage and determination should be rewarded. We need the plan to help the Ukrainian people decide their own destiny," said William C. Danvers.
Ukraine has been granted a special candidate status in the OECD joining process. The Council of Member States is establishing a roadmap for joining: "The roadmap lists technical reviews to be conducted by OECD committees in various policy areas to assess the candidate country's readiness and ability to implement relevant OECD legal tools [agreed standards] as well as best practices on a wide range of issues."
What does this mean for Ukrainian business in practice? The government has an ambitious plan to implement the necessary reforms envisaged by the joining roadmap in the next two years. The OECD standards for the private sector include everything that forms the institution of a company's business reputation: business integrity, an effective compliance system, good governance, and transparency. Ukraine's joining the OECD and receiving financial support for recovery and investment means changing the "gray" rules of the game to integrity and transparent business practices in Ukraine. Therefore, Ukrainian businesses should work actively today to meet international standards and requirements. In other words, a company that does not have an effective compliance system in its corporate culture will not be able to develop and exist in a few years fully.
Read more https://bit.ly/3Z91dqg