Ukraine took 116th place among 160 countries in the Corruption Perceptions Index-2022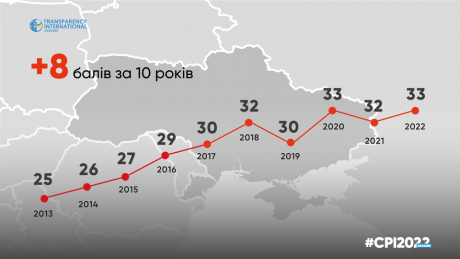 Ukraine took 116th place among 160 countries in the Corruption Perceptions Index-2022
On January 31, the global movement Transparency International traditionally presented a large study of the Corruption Perceptions Index (CPI). Ukraine received 33 points out of 100 possible for 2022. This year, the indicator increased by one point, and now Ukraine ranks 116th out of 180 countries.
It is worth noting that over the past 10 years, the indicator of our country has increased by 8 points, and the points scored in 2022 are the highest indicator of our country since the launch of the updated CPI methodology.
"Despite the Russian invasion, our country has shown that its progress in the fight against corruption is a constant process that continues even in the most difficult period of the state's existence. Russia's aggression has become a test for all Ukrainian state institutions, including the anti-corruption system's bodies created after the Revolution of Dignity. The work of anti-corruption bodies, despite some restrictions caused by wartime, still took place, and its results were noticeable. Also, it was in 2022 that the Ukrainian authorities finally fulfilled a number of promises regarding the anti-corruption sphere that they had made before," the survey emphasizes.
Among the undoubted positives of last year, experts singled out the state Anti-Corruption Strategy adoption, the long-awaited appointment of the Specialized Anti-Corruption Prosecutor's Office Head(SAP), which became the driving force for intensifying investigations into top corruption. The High Anti-Corruption Court also showed its effectiveness: in 2022, the court considered 49 cases, 37 of which resulted in verdicts.
Also, Transparency International Ukraine offers the following 4 comprehensive steps that will help improve the level of the fighting against corruption and contribute to the effective recovery of Ukraine in 2023:
successfully complete the competitions for the head of NABU, ARMA, and NACP;

correct and complete the reform of constitutional justice;

to ensure the opening of data, where it is possible and does not harm the interests of the country's security and defense, as well as to restore the submission of electronic declarations (for this, support the draft law No. 8071);

return public procurement to a competitive environment as much as possible and ensure effective control and monitoring of procurement.
The movement predicts that the next years will be decisive for our country in many respects: Ukraine faces not only victory in the war with Russia but also a difficult path to full integration with the EU. And it is certainly impossible without effective anti-corruption reforms.
Complete the study at the link http://bit.ly/3wLba1v