Today we want to sum up the results of 2022 and highlight the main achievements of our collective action initiative.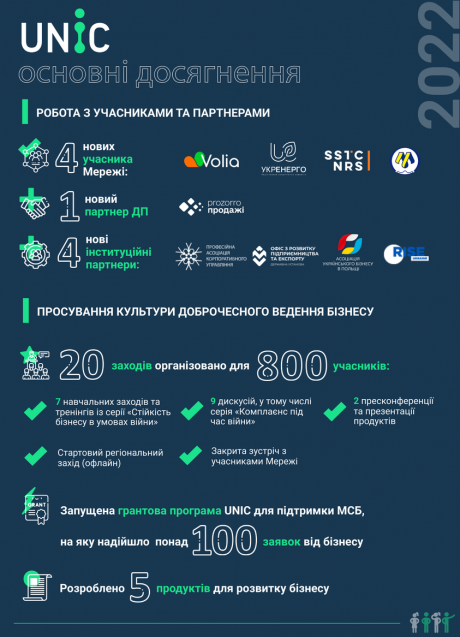 The year 2022 has become one of the most difficult in the history of Ukraine - a year of indomitability and struggle. The war made adjustments to UNIC's activities and plans, but our community has endured, strengthened, and confidently steps forward to new challenges.
Today we want to sum up the results of 2022 and highlight the main achievements of our collective action initiative.
In the current year, 4 new members joined the Network - Volia Telecommunications Company, NPC UKRENERGO, the Union of Dairy Enterprises of Ukraine, State Scientific and Technical Center for Nuclear and Radiation Safety. It is particularly pleasing to note that among the new participants in 2022 are also the first state-owned companies. At the same time, UNIC received the support of 5 new partners, including one state enterprise that received the status of a partner with the intention of becoming a member of the Network in the future, - Prozorro.Sale, Corporate Governance Professional Association, Entrepreneurship and Export Promotion Office (Ukraine) , Association of Ukrainian Business in Poland, RISE UA.

From the first months of the full-scale invasion, UNIC drew particular attention to the question of the role of integrity in the private sector in wartime and reconstruction. Therefore, the further activities of the Network after February 24 were aimed, among other things, at supporting the focus of society, authorities and business on these topics.
As a result, we held 20 online and offline events: training, discussions, presentations of new products, press conferences, regional seminars and closed meetings for the Network members - in which about 800 participants took part. Also, experts of the Network had the opportunity to act as speakers at 7 partner events.

The innovation of 2022 for UNIC was the focus on local small and medium-sized businesses (SMEs), which under current conditions require special attention and support. In particular, the Network developed and launched the UNIC grant support program for Ukrainian medium and small businesses (SMEs) - a pilot project to build a compliance system for Ukrainian businesses, for which more than 100 applications were received.
At the same time, the Network worked on improving knowledge and preparing informational materials to raise public awareness of honest business practices and compliance principles.

We are grateful to everyone who was with us in 2022 for their trust, support and willingness to face challenges together. We confidently step into the new year 2023, believe in Victory and the fastest possible development of Ukraine into a super-powerful and prosperous state.

Glory to Ukraine!