We are pleased to announce members' changes in the UNIC Expert groups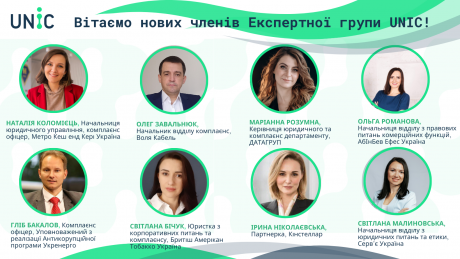 We are pleased to announce members' changes in the UNIC Expert groups!
The interest of Ukrainian businesses in compliance is growing, which is why new companies from various industries that support the ideas of ethical and responsible conduct of their activities are joining UNIC, and, accordingly, the Network's expertise is expanding due to more and more specialists - compliance practitioners and lawyers.
Not everyone knows that there is the General Expert Group at UNIC, which unites the specified specialists. Since the Network's establishment, the General Expert Group has been a reliable adviser and partner of the Secretariat both in matters of developing internal regulations and replenishing the UNIC best practices base. After all, it was the members of the General Expert Group who participated in the creation of UNIC's internal policies, templates of all documents offered for use by Network participants, recommendations for the Government prepared by external experts, etc.
The new expert group members are a powerful reinforcement of UNIC. Together, we will prepare and carry out an examination of documents and other products of the Network for compliance with international standards, national legislation and best practices.
Let us introduce you to new members of the UNIC General Expert Group:
Gleb Bakalov - Chief Compliance Officer, Commissioner for the Implementation of the Anti-Corruption Program, Ukrenergo
Svitlana Bichuk - Legal Counsel Compliance, British American Tobacco Ukraine
Oleh Zavalnyuk - Head of the Compliance Department, Volia
Natali Kolomiiets - Head of Legal/Compliance Office, Compliance Officer, Metro Cash and Carry Ukraine METRO UA
Svitlana Malynovska - Legal and Compliance Manager, Servier Ukraine
Iryna Nikolayevska - Partner, Co-head ofCorporate/M&A and Compliance practices, Kinstellar
Marianna Rozumna- Head of Legal and Compliance Department, DATA GROUP
Olga Romanova- Head of Legal (Commercial), AB InBev Efes Ukraine
We also congratulate the new expert who joined the Expert Group of the Network in the field of pharmaceuticals - Yevgeniya Ocheretko, Counsel, Co-head of Life Sciences and Healthcare, Public Procurement Practices, Arzinger. We are sure that her contribution to the work of the expert group will be valuable for building integrity in the pharmaceutical sector.