We continue the series of publications on the occasion of Anti-Corruption Day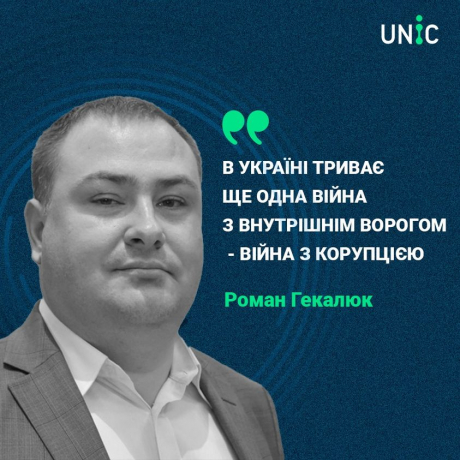 Dear friends!
We continue the series of publications on the occasion of Anti-Corruption Day with UNIC members and partners, who combined their anti-corruption work with charitable activities and protection of Ukraine on the battlefield during wartime.
Today, Roman Hekalyuk, a Board member of the National Association for Anti-Corruption Compliance, director of the JSC«Main Gas Pipelines of Ukraine» security department, and a soldier of the Armed Forces of Ukraine tells how his anti-corruption activities changed with the beginning of the war.
The full-scale war in Ukraine made corrections in the expert's life, and now he courageously keeps the country's defense in the Armed Forces ranks. According to Roman, there is currently another war going on in the state with an internal enemy - a war with corruption: "Remember, during wartime, corrupt people are worse than saboteurs because, choosing their profit, they actually work on the side of the aggressor and neutralize our efforts. In national law, the punishment for wartime corruption should also be equated with responsibility for collaboration with the enemy. To win our struggle for a better future, we must eradicate all worthless manifestations of bribery and corruption from Ukrainian everyday life in all areas of the country. Only then are hopes for rapid development, economic regeneration, and increased trust in our country on the international stage. This issue will become especially relevant after our Victory during financing by foreign partners for the revival of the country's economy and infrastructure. So, we have a lot to work on. Let's fight - we'll fight."