the UNIC's experience presentation during a High-Level Meeting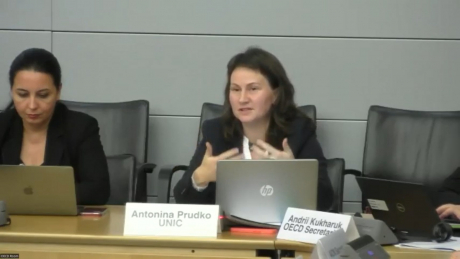 In November, Antonina Prudko, Head of the UNIC Secretariat, presented the UNIC's experience during a High-Level Meeting of Anti-Corruption Decision Makers in Eastern Europe and Central Asia. The Organization for Economic Cooperation and Development (OECD) held the event.
The event brought together ministers, heads of anti-corruption institutions, and law enforcement agencies from more than 30 countries of Eastern Europe and Central Asia, including the highest representatives of the EBRD and the OECD, to agree on strategic directions within the Work Program of the OECD Anti-Corruption Network for Eastern Europe and Central Asia.
During the conference, Ms. Antonina spoke about UNIC's experience as an initiative of business collective action in business integrity and compliance: "Ukrainian business has united around the values of transparency, integrity and zero tolerance for corruption. In 5 years, UNIC has become a community of like-minded people promoting culture and international integrity standards. Around our Network, we have united a unique community of compliance and integrity experts in Ukraine who are ready to share their experience with Ukrainian businesses.
"Today, despite the war, UNIC has become an example of how to quickly adapt and respond to our members' requests and Ukrainian business in general. UNIC immediately launched a series of webinars and practical discussions on wartime compliance and released practical materials. We also launched a pilot grant program to support small and medium enterprises, aimed to help Ukrainian businesses develop and strengthen the compliance function," said Antonina Prudko in her speech.
It is important to emphasize that, at the same time, a new methodology for assessing countries was approved within the 5th round of the Istanbul Action Plan Monitoring. The new methodology will help the OECD to objectively and transparently measure the governments' anti-corruption activities, including Ukraine.
UNIC is grateful for the opportunity to present the Ukrainian experience during an event of such a level. We received positive feedback, support from the event participants, and sincere admiration that UNIC continues to organize such work with Ukrainian businesses and promote an integrity culture even during wartime. Together to victory!
View the event's recording: https://bit.ly/3Fx4pW8