UNIC and Ukrzaliznytsya signed the partnership memorandum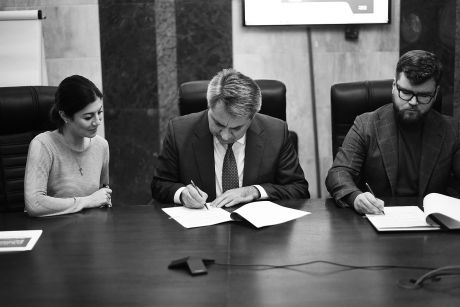 17 January 2020 Ukrainian Network of Integrity and Compliance (UNIC) and JSC "Ukrzaliznytsya" signed the Partnership Memorandum. Its goal is the collaboration to promote the ideas of commercial transparency, business responsibility, anti-bribery and abuse activity.
Head of Board Eugene Kravtsov and member of Board Zhelko Marcek signed the Memorandum on behalf of Ukrzaliznytsya. Ivan Sakal, CFO of Organic Systems and the Head of Executive Committee and Gayana Karakashyan, the Head of the Secretariat signed the Memorandum on behalf of UNIC.
According to the Head of the Board of JSC "Ukrzaliznytsya" such a partnership is not just a momentary need. "Collaboration with UNIC is another big step in fighting against corruption and rising corporate transparency. It is extremely important in the conditions of liberalisation of rail transportation market that opens for Ukraine access to the European markets" – noted Eugene Kravtsov.
The Head of Executive Committee Ivan Sakal pleasantly noted that Ukzaliznytsya became another big state company joined to the partnership with UNIC. He hoped this would be a positive example for other important players in the public sector business. "I am glad that our partner is the national rail transporter. I am convinced that consistent implementation of the principles of integrity in the work of the Company is a good investment in the future. UNIC and Ukrzaliznytsya partnership is an important step in developing the principles of business integrity in Ukraine" – said Ivan Sakal.