CALL FOR A BUSINESS INTEGRITY ACADEMY COORDINATOR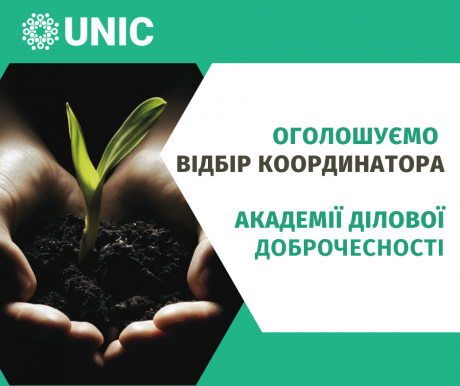 In 2021 the Ukrainian Network of Integrity and Compliance launched new area of the UNIC's work – the Business Integrity Academy (BI Academy) project. The Academy is a long-term project aimed to strengthen the compliance officer profession and improve compliance officers' skills in their daily activities, as well as raise awareness of employees and managers of companies on anti-corruption and compliance.
BI Academy Coordinator will be responsible for the launching, implementation and further support of the Academy's activities. He or She will become a part of the Secretariat team.
The Coordinator's main objectives for 2021 will be the following:
drafting of the business plan on BI Academy launching and development;
preparation, launching and supporting of the Academies' first pilot module on anti-corruption compliance issues.
Project activities could be full-time or part-time, with a combination of both work in the office and remote work. The UNIC Secretariat office is located in Kyiv.
Detailed information about the position could be found in the Terms of Reference at the link https://www.dropbox.com/s/pn3lsnl9gjdmbun/UNIC_ToR_BIA%20Coordinator.pdf?dl=0
You are kindly invited to send your CVs in Ukrainian and English and Cover Letters with names and contact information of at least two references via e-mail to info@unic.org.ua.
Before sending documents, read the requirements for the candidate at the link.
Please indicate "BIA Coordinator" in the e-mail subject line.
The deadline for applying is by COB on March 10, 2021.