Please welcome Gaiane Karakashian – a newly appointed Head of UNIC Secretariat!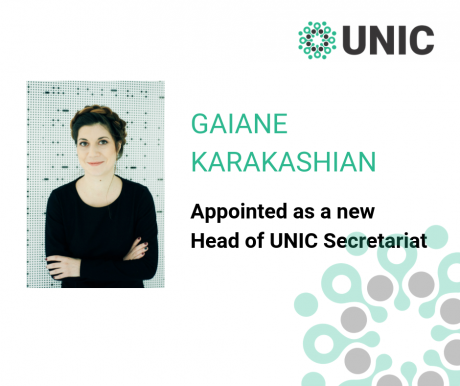 Please welcome Gaiane Karakashian – a newly appointed Head of UNIC Secretariat!
Gaiane Karakashian is a qualified leader in Business Management. Gaiane's skills, valuable to UNIC, include building long-term relationships with stakeholders, developing and modifying business concept, policies and internal processes, finding win-win solutions in negotiations and during cooperation, as well as risk management.
Gaiane is experienced in development and control over implementation of compliance policies and procedures, collaboration with financial support projects, restructuring of companies' departments and cost budget optimization. In 2016, Gaiane graduated from the MBA programme of Kyiv-Mohyla Business School.
Before joining UNIC team, Gaiane Karakashian worked in global and local companies in the sectors of IT technologies, passenger air transportation, and media, as well as coordinated projects of the Union of European Football Association (UEFA), European and International Olympic Committees. Gaiane was responsible for budget preparation and analysis, improvement of internal business processes, and strategic planning, as well as for organization of interactive training courses for employees, search for sponsors and donors to implement CSR and environmental projects.
"The role of business is key to building safe and caring environment, and ethical business is the one that can actually improve it. UNIC is a powerful tool that is aimed at bringing feasible changes to investment climate in Ukraine – the country of opportunities, resources, technologies and ideas. I am gladly joining UNIC to take the next step in developing business integrity and facilitating business cooperation on both international and local level." – comments Gaiane Karakashian.