Forum for local entrepreneurs "DailyOpportunities for Business in Wartime" with the support of Khmelnytskyi City Council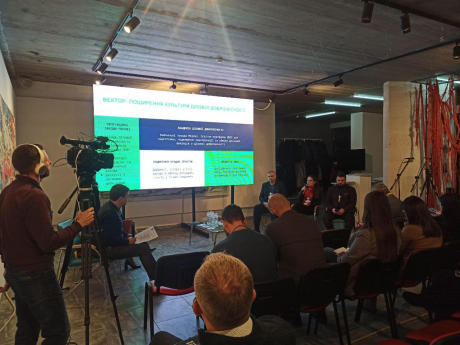 On December 9, in Khmelnytskyi hosted the forum for local entrepreneurs "DailyOpportunities for Business in Wartime" with the support of Khmelnytskyi City Council.
The event was attended by representatives of the central government, local self-government bodies, business, banking and others. The purpose of the forum was to determine opportunities for the development of Ukrainian business based on current practices in modern realities. In particular, the speakers talked about state support for entrepreneurship, successful practices in wartime, regional business and opportunities for it, current issues and needs of the private sector - procurement and taxation of generators, reservation of workers, blocking of tax invoices, etc.

In addition, the organizers didn't overlook the tools for business development and support, among which the All-Ukrainian UNIC Network was presented. UNIC Project Coordinator Yuliia Vrublevska shared with the audience the opportunities offered to companies by the Network membership.
"UNIC is a unique collective action initiative of Ukraine, that unites businesses for a common goal, in particular, supporting the values of transparency, integrity, responsible business conduct and a comprehensive fight against corruption. The global goal of the Network is to change business practices and eliminate bribery opportunities for market participants in the public sector. That is, influence on public and local authorities in order to minimize the risks of corruption. UNIC also helps businesses change internal business processes, adjust systems, work with risks and prevent reputational and financial losses, which is especially relevant in the current conditions in Ukraine when searching for international partners and attracting grants for business survival, and for the future - to ensure transparent reconstruction of Ukraine", - noted Yuliia Vrublevska.
In addition, during the presentation, Yuliia drew attention to the Khmelnytskyi business and Network partners who actively help the private sector Entrepreneurship and Export Promotion Office, Prozzoro.Sale, Business Ombudsman Council. The representatives of the EU4Business (GIZ) program, the Export Credit Agency and USAID program "Competitive Economy of Ukraine" also talked about tools for business development.

Events of this format are currently extremely relevant for the development of the regional economy, because, in addition to new knowledge, business receives new acquaintances, experience, practice and advice from colleagues who work and adapt to the challenges of the times. For UNIC, the development of regional SMEs is also a priority, because the structural development of Ukraine's economy and the creation of new jobs begins with them.
Thank you to the organizers for the invitation, excellent organization of the forum, the opportunity to speak at it and introduce the audience the tools of the Network.