The next webinar of the summer series "Wartime Compliance. Challenges for the Employer".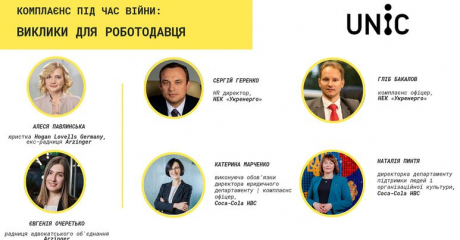 The war in Ukraine significantly increased risks and uncertainties in the labor market. At the same time, it has opened new opportunities for the employees' free movement not only within our state borders but also to other countries. Therefore, UNIC concludes the summer webinar series "Wartime Compliance" with a crucial discussion on the organization of labor relations in wartime and the involvement of compliance in these processes.
During the webinar "Challenges for the Employer", UNIC experts will consider the problems arising from the remote work of staff: the exchange of documents, control over the fulfillment of tasks, the implementation of remuneration, etc.
We will also talk about the organizational aspect of interaction with employees on the frontline, in "hot" spots, or in temporarily occupied territories. In particular, it will be discussed how to maintain a balance to avoid losing an employee and not putting him and the company in danger. The booking employees' problems will also be paid attention to during the event.
In addition, the panelists will highlight business challenges in conducting employee / potential employee checks and processing the dismissal of employees during martial law.
Considering the interdisciplinary nature and scope of the discussion topic, we complete the summer series of webinars involving a more comprehensive range of our experts.
Moderators:
Speakers:
Gleb Bakalov, Compliance Officer, NPC "Ukrenergo"
Kateryna Marchenko, Acting Legal Director/ Compliance Officer, Coca-Cola Ukraine
Sergiy Gerenko, HR director, NPC "Ukrenergo"
Natalia Pyntia, People and Culture Director, Coca-Cola Ukraine
WHEN: September 6, Tuesday, 12:00 - 1:30 p.m. (Kyiv time)
EVENT FORMAT: interview-discussion in ZOOM
Please register at: https://forms.gle/phjwHhMEq5HfmseA9
After registration, participants will receive a link to access the webinar (ZOOM) and a calendar reminder of the webinar.