Antonina Prudko presented UNIC's experience during the OECD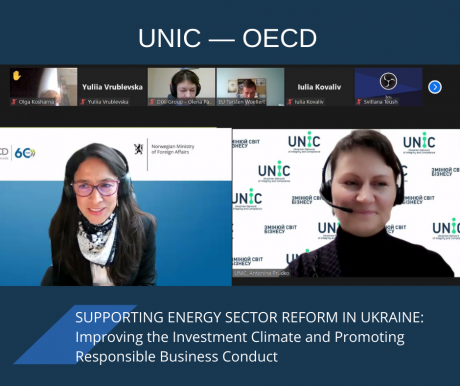 Antonina Prudko presented UNIC's experience during the OECD event "SUPPORTING ENERGY SECTOR REFORM IN UKRAINE:
Improving the Investment Climate and Promoting Responsible Business Conduct"
Head of the UNIC Secretariat Antonina Prudko took part in a panel discussion on promoting sustainable investment in Ukraine's energy sector and the UNIC partnership program for state-owned enterprises operating in the energy sector. Participation in the program enables state-owned enterprises to develop a step-by-step plan to build and strengthen the compliance system, gain access to existing compliance practices, expertise from international and local experts, and study at the UNIC Business Integrity Academy.
Mathilde Mesnard, Acting Director, Directorate of Financial and Corporate Affairs, OECD
"The world is trying to get out of the "covid situation," and countries are trying to create conditions for further investment development. Ukraine is no exception and demonstrates ambitious goals to be achieved in the coming years. In particular, Ukraine needs to make changes to the energy exchange rate to reduce its production and pay attention to responsible business conduct standards."
Head of the UNIC Secretariat Antonina Prudko
"The UNIC network offers SOEs undergoing corporatization reform, effective tools that will help without wasting time to implement an effective compliance system in accordance with international standards and OECD recommendations in particular. Implementing responsible business practices and policies, together with effective governance, strengthens trust in state-owned enterprises and strengthens business reputation among investors and international institutions."
The event also published the OECD Energy Investment Policy Review of Ukraine and the OECD Study "Responsible Business Conduct Due Diligence Practices in Ukraine's Energy Sector."
The full version of the OECD Review is at:
https://www.oecd.org/.../oecd-energy-investment-policy...
The full version of the OECD Study at: