ANTONINA PRUDKO PRESENTED UNIC ACTIVITIES AND PLANS AT THE EUROPEAN UNION ANTI-CORRUPTION INITIATIVE IN UKRAINE STEERING COMMITTEE MEETING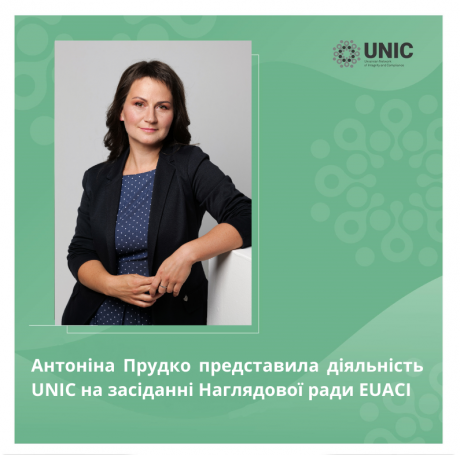 On February 19, the First Steering Committee Meeting of the European Union Anti-Corruption Initiative in Ukraine (EUACI) II phase took place. The meeting was co-chaired by the Minister of Justice of Ukraine, Mr. Denys Maliuska, and Denmark's Kingdom's Ambassador to Ukraine, Mr. Ole Egberg Mikkelsen. The EUACI report on main achievements and challenges since the EUACI second phase launching was presented at the Steering Committee Meeting.
Representatives of the European Union, Denmark, the Heads or Deputy Heads of all anti-corruption bodies of Ukraine such as NACP, NABU, SAP, ARMA, HACC, the State Financial Monitoring Service Ukraine, and EUACI partners, including the UNIC, were invited to participate.
Antonina Prudko, Head of the UNIC Secretariat, presented UNIC's work in 2020 and spoke about the Network's plans in 2021 (e.g., launching the Business Integrity Academy and GR direction), which will be implemented with the support of EUACI.
Allan Pagh Kristensen, EUACI Head of Unit: "It is a great pleasure to gather all the EUACI partners at the Steering Committee meeting of Phase II. We have a very impressive and diverse group of partners that illustrates that the fight against corruption is an issue not only for the national anti-corruption institutions; we also need to work with civil society, the media, business associations, and the local authorities if we are going to be successful. And that is the strength of our program."
A short video about the EUACI Steering Committee Meeting is at the link: https://www.youtube.com/watch?v=DqELF0zVKic&feature=youtu.be