On October 9, the Ukrainian Network of Integrity and Compliance (UNIC) turned 5 years old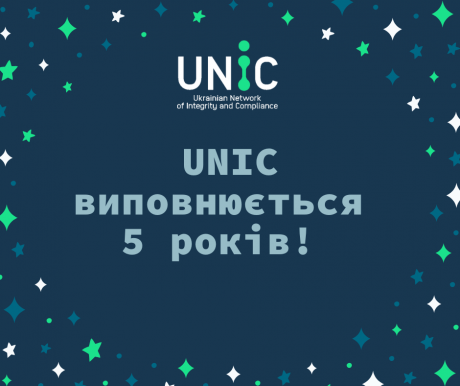 On October 9, the Ukrainian Network of Integrity and Compliance (UNIC) turned 5 years old.
Yesterday we should have celebrated, meet and discuss prospects, join flashmob on social networks with congratulatory frames, and rejoiced together. Still, instead, we woke up to another air alarm, read the news with anxiety, sit in corridors and shelters to the sounds of rocket flights and explosions in our city and throughout Ukraine. Everyone seems to have returned to February 24, to the horror of the first day of the war. But something has changed - now we are no longer afraid, we are jointly resisting a terrorist country fighting civilians and children with missiles.
We continue to do what we do best - to live despite our neighbours' efforts to destroy our statehood. We continue to help each other, unite and work to support our country in this crucial struggle.
Our front is economic, and we will continue to hold it. And we will continue to bring our victory closer step by step.
We sincerely thank members of the Network, our partners, and everyone for their constant support and professional contribution to the Network development and the formation of honest business rules in Ukraine. Over the years, we have managed to form a real community of experts, compliance officers and companies for whom responsible and ethical business conduct is a core value.
We promise to continue to unite, help and provide tools so that Ukrainian companies become more sustainable, systematic, understandable and open ways to enter new markets and global partnerships. Our strength is in our union!
Today, we are joining another flashmob, more important, and urge you to congratulate UNIC on its birthday by donating to the Ukrainian Armed Forces for initiatives/charitable funds that you trust.
We call on the international community to recognize russia as a terrorist state, strengthen sanctions and speed up the provision of an air defence system to Ukraine.
And we will certainly celebrate the Network's birthday together with participants, partners and all UNIC friends after our Victory! Glory to Ukraine!