We invite you to become part of the Digest editorial board!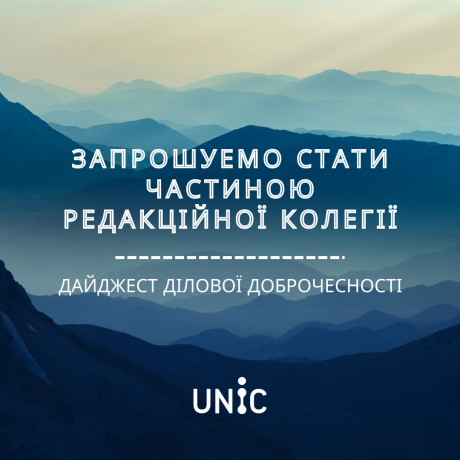 The UNIC Business Integrity Digest is an expert work presented in the format of an article. The purpose of the publications is to highlight current or problematic compliance issues, considering various aspects of this practice in Ukraine and the world. Especially valuable for us are the unique views, developments, or cases of UNIC Members and Partners.
The Network publishes 6 digests per year (you can get acquainted with the Digests in the section of the site "Best Practices" at the link: https://unic.org.ua/en/best-practice/dajdzhest/).
We are currently updating the Digest's editorial board and collecting proposals for 5 vacancies. The task of the members of the editorial board is to review and comment on the digest materials for compliance with Ukrainian / international compliance standards.
All those wishing to become part of the UNIC Integrity Digest expert board are invited to send their CVs to daria.bilinska@unic.org.ua by September 9, 2022 (till 6 p.m). Applications are accepted only from UNIC Members and partners.
We will be happy to answer your questions and suggestions.