The Role of The Business Integrity in Reconstruction of Ukraine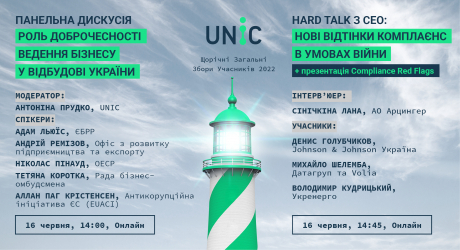 The tightening of sanctions, the active engagement of entrepreneurs with the state, and the unprecedented scale of charitable and volunteer work critically highlight business integrity in times of war. Implemented compliances are also crucial in attracting international investment in Ukraine's reconstruction.
On the 16th of June, the UNIC 2022 General Members Meeting will include a broad panel of leading experts to discuss the role of compliance in rebuilding Ukraine and to learn how leading CEOs organize compliance in times of war.
Additionally, the "Compliance: basic principles of risk identification and mitigation" presentation will take place. The Guideline was drafted based on the UNIC's participants and Ukrainian business practices.
14:00-14:40 PANEL DISCUSSION: THE ROLE OF THE BUSINESS INTEGRITY IN RECONSTRUCTION OF UKRAINE
Moderator: Antonina Prudko, Head of UNIC Secretariat
Speakers:
Adam Lewis Principal, Project Integrity Office of the Chief Compliance Officer The European Bank for Reconstruction and Development
Andriy Remizov, Acting Director of the Entrepreneurship and Export Promotion Office
Nicolas Pinaud, Deputy Director OECD Directorate for Financial and Enterprise Affairs
Tetyana Korotka, Deputy Business Ombudsman of Ukraine
Allan Pagh Kristensen, Head of EU Anti-Corruption Initiative in Ukraine
Issues for discussion:
- Attracting investments for reconstruction and assistance to Ukrainian business. The importance of integrity during the war
- Requirements for business: compliance criteria for international financing for large, small and medium-sized companies
- Innovations in risk assessment and reputation of recipients, contractors
- "Marshall Plan" for Ukraine, improving anti-corruption standards for business and state enterprises
- Role of the Government in spreading integrity practices among businesses
14:45 - 15:45 HARD TALK WITH CEO: NEW FLAVOR OF COMPLIANCE IN CONDITIONS OF WAR
+ Presentation of the guidebook "Compliance: basic principles of risk identification and mitigation"
Interviewer: Lana Sinichkina, Partner at Arzinger Law Office, member of the UNIC Executive Committee
Speakers:
Denys Golubchykov, CEO of Johnson & Johnson Ukraine
Mykhailo Shelemba, CEO of Datagroup and Volia
Volodymyr Kudrytskyi, Chairman of the Management Board of Ukrenergo
Issues for discussion:
- What importance does compliance take on in times of war?
- What risks have increased in wartime, and how can they be managed?
- Can there be a balance between compliance and facilitation?
- How should the communication/coordination between government and business look like during and after the war?
It is possible to take part by pre-registration: https://forms.gle/j52K9PDpFAhiV92m7
View the full program for the 2022 Annual Meeting General by clicking here:
Glory to Ukraine!