Welcome to the II Ukrainian Arbitration Forum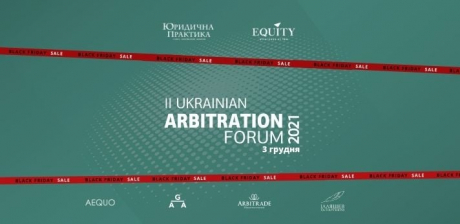 On December 3, we invite you to the II Ukrainian Arbitration Forum, where UNIC acts as an information partner.
Alternative dispute resolution is becoming increasingly popular, reputational, and institutional. Of course, you will trust the institution and the arbitrators you have chosen to resolve the dispute to which you are a party. But arbitration is not only about trust, but also about professionalism, clear rules for the parties, confidentiality.
Legal practice keeps its hand on the pulse of legal trends, which is why the Ukrainian Arbitration Forum was founded last year.
We would also like to draw your attention to the fact that Legal Practice has announced BLACK FRIDAY, which means that participation in the II Ukrainian Arbitration Forum is UAH 1,000!
Date: December 3, 2021
Time: 09: 30–18: 00
This year, the participants of the II Ukrainian Arbitration Forum, which will take place on December 3, are expected to communicate with the arbitration stars, as we have invited leading foreign speakers to talk about the following:
• International arbitration in the context of Ukraine's investment climate
• Alternative mechanisms for settling business disputes with the state
• Challenges related to the implementation of decisions against the state
• New investment lawsuits against Ukraine - indicators of systemic problems of the business environment
• Digitalization and virtualization of arbitration and new opportunities that have emerged with the modernization of arbitration regulations
• Costs of arbitration and fundraising
• Tools of English law: how to speed up the settlement of a dispute through mediation. Review of arbitration cases in English courts
• Appeals against arbitral awards in national courts
Have time to register at the link: https://pravo.ua/event/arbitration2021/
Contacts:
Natalia Bulko, ticket sales
(067) 238-83-08, e-mail: n.bulko@pravo.ua
Veronika Kolomiets, about partnership
(050) 849-04-33, e-mail: v.kolomiiets@pravo.ua
Victoria Cherkasova, event manager
(097) 616-76-19, e-mail: v.cherkasova@pravo.ua