DISCUSSION: Membership in the EU. TO DO LIST for Ukrainian business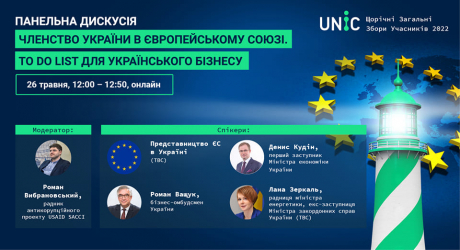 We open the UNIC Meeting General for a key strategic discussion. EU Membership. To Do List For Ukrainian Business. The first panel discussion is devoted to the work and prospects of business development in Ukraine in the framework of Ukraine's membership in the EU:
Benefits for Ukrainian business from working in the Eurozone
Is Ukrainian business ready to join the EU?
EU Membership Questionnaire: what needs to be improved?
Interaction between business and government, the challenges on the way to EU accession
MODERATOR: Roman Vybranovsky, Advisor to USAID SACCI anti-corruption project
SPEAKERS:
EU Delegation to Ukraine (TBC)
Denys Kudin, First Deputy Minister of Economy of Ukraine
Roman Vashchuk, Business Ombudsman of Ukraine
Lana Zerkal, Adviser to the Minister of Energy, Former Deputy Minister of Foreign Affairs of Ukraine (TBC)
WHEN: June 16, 2022 12:00 - 12:50 (Kyiv time)
It is possible to take part by pre-registration: https://forms.gle/j52K9PDpFAhiV92m7
View the full program for the 2022 Annual Meeting General by clicking here: https://cutt.ly/jJkKEJT