WELCOME TO THE FINAL EVENT OF THE BUSINESS INTEGRITY MONTH UNIC 2020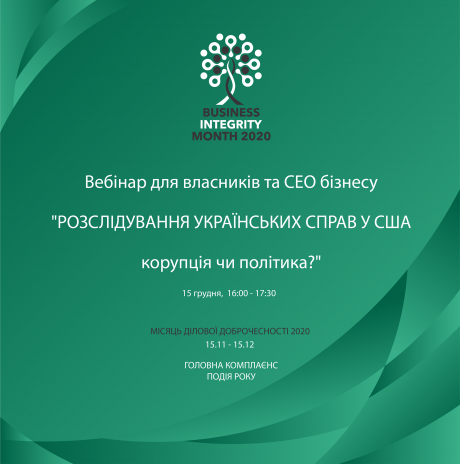 WELCOME TO THE FINAL EVENT OF THE BUSINESS INTEGRITY MONTH UNIC 2020
December 15 at 16:00 - Webinar for business owners and СЕОs 'Investigation of Ukrainian cases in the USA – corruption or policy?'
Free registration: https://bit.ly/2Li01AO
Speakers:
Neil J. Schumacher, counsel in the litigation practice of Paul Hastings, based in the firm's office in Washington, D. C.
Kateryna Gupalo, Attorney At Law, Partner, Head of White Collar Crime, Co-Head of Anticorruption Compliance and Business Ethics, Arzinger
Moderator: Lana Sinichkina, Partner Arzinger, member of UNIC Executive Committee
The webinar will focus on large investigations of corruption in the USA and in multi-jurisdictions – including the Ukraine-related ones, connected to the issues of oligarchs and other high-profile cases. The reporter will discuss key observations and conclusions from those investigations, as well as some practical consequences caused by those investigations.
The event will be in English, with simultaneous interpretation into Ukrainian.