Successful Future Begins With Compliance: 2022 Annual Meeting General of UNIC Members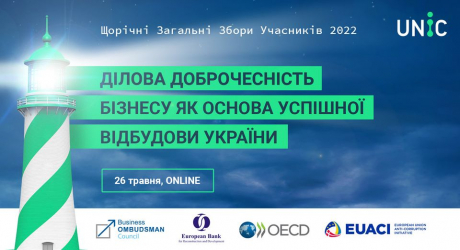 Successful Future Begins With Compliance: 2022 Annual Meeting General of UNIC Members
The AnnualUNIC MeetingGeneral of Members in the 2022 year will be memorable. In the difficult and dark times of the war in Ukrainе, we will talk about the successful future of our country and necessary basis that needs to be laid now.
We invite you to meet leading representatives of international and Ukrainian business, and the expert community to discuss the questions: is business ready for EU accession? What are the challenges and requirements along the way? What are the compliance criteria for a business to receive international funding? The importance of integrity in a war period, etc.
In particular, thematic panel discussions will take place during the Meeting:
- UKRAINE'S MEMBERSHIP IN THE EU. TO DO LIST FOR UKRAINIAN BUSINESS
- THE ROLE OF THE BUSINESS INTERGIRY IN RECONSTRUCTION OF UKRAINE
In addition, the Network will report on the work done in 2021, present areas of work and the budget for 2022, elect a new member of the UNIC Executive Committee.
Date: May 26, 2022
Time: from 12.00 p.m. till 2.30 p.m. (Kyiv time zone)
Format: online, Zoom
It is possible to take part by pre-registration: https://forms.gle/ap9QcFJzY5g8eBZ58
If you have any questions, don't hesitate to get in touch with Daria Bilinska by phone: +38 067 372 33 06 or e-mail: daria.bilinska@unic.org.ua
Glory to Ukraine!