TOMORROW - 10 Dec - HIGH LEVEL EVENT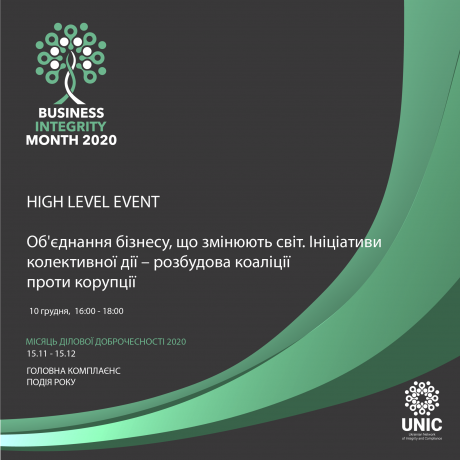 TOMORROW - 10 Dec - HIGH LEVEL EVENT
"Business initiatives that change the world. Collective action initiatives – development of coalition against corruption"
Free registration: https://bit.ly/36YT3sT
We live in the times when initiatives of private business with strategic thinking are, without any exaggeration, changing the world. Uniting around joint vision and values, such businesses form the synergy that changes the faces of countries and the world in general. How collective action initiatives function in Ukraine, what achievements they have made and how they see the idea of the future of Ukrainian and global business – these are the issues to be discussed at the high-level meeting organized by the Ukrainian Network of Integrity and Compliance (UNIC) jointly with the UN Global Compact.
The following items will be discussed at the event:
success factors and global lessons of collective action initiatives
tools and opportunities of collective action initiatives
practical experience, insights, advice from business
roadmap of further actions and call to action – expansion of the range of collective action participants
Speakers:
Оlha Savran, member of the UNIC Executive Committee, manager of the Anti-Corruption Network for Eastern Europe and Central Asia, OECD
Coralie Martin, Policy Advisor at the OECD Centre for Responsible Business Conduct (RBC)
Piergiorgio Pepe, President, Quantum Ethics
Victoria Fokina, member of the UNIC Executive Committee, Head of Legal and Compliance at SKF Ukraine
Denys Lementar, Ethics and Compliance manager, Kyivstar
Oleksiy Povolotskiy, Corporate Governance and Compliance Director, DTEK
Vivek Menon, head of collective actions and partnership for EMEA, Maritime Anti-Corruption Network (MACN)
Moderator:
Borys Danevych, member of the UNIC Ethics Committee, partner, CMS
The event will be held in Ukrainian, with simultaneous interpretation into English