Webinar_SANCTION AND COMPLIANCE RISK MANAGEMENT BY AUTOMATING VERIFICATIONS: THE EXPERIENCE OF UKRAINE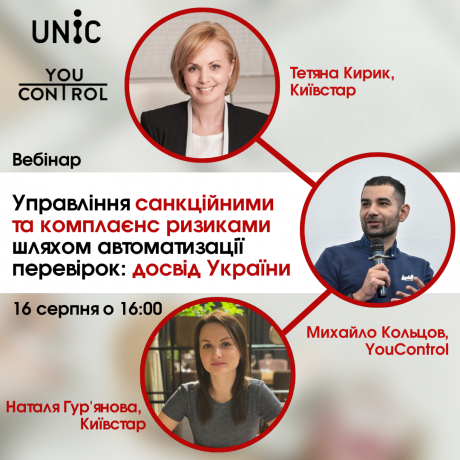 Webinar_SANCTION AND COMPLIANCE RISK MANAGEMENT BY AUTOMATING VERIFICATIONS: THE EXPERIENCE OF UKRAINE
Every day, hundreds of new figures are added to the sanctions lists. It is very difficult to keep track of all the updates. The businesses' connections are complicated and multi-layered, hidden through third-party companies and false beneficiaries. But it is possible to act in advance and identify sanctioned persons before the cooperation with them harms the company. Experts with over 15 years of experience will explain where to search and how to identify sanctioned companies and individuals using open data.
WHO WILL NEED THIS KNOWLEDGE?
Compliance and risk managers, KYC, AML managers, lawyers, law enforcement agencies representatives, and state authorities.
KEY POINTS OF THE WEBINAR
1. The features of beneficiaries' identification
2. Sanctions verification, data sources.
3. Offshore, where to search for information.
4. Beneficiaries, the effective identification methods.
5. Search for connections with sub-sanctioned companies: tools, means.
SPEAKERS ARE EXPERTS IN COMPLIANCE AND BUSINESS INTELLIGENCE
Mykhailo Koltsov, Head of the IT training and development department at YouControl
Tetyana Kyryk, Chief Ethics and Compliance Officer at Kyivstar (VEON Group)
Natalya Guryanova, Senior Compliance and Ethics Manager at Kyivstar (VEON Group)
The webinar will take place on August 16 (Tuesday) at 16:00 Kyiv time, zoom platform
Registration https://forms.gle/49NHuyo5qfu5DtfMA