WEBINAR: Labor relations in wartime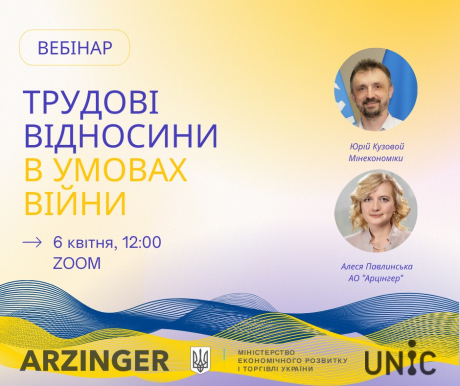 WEBINAR: Labor relations in wartime
The war requires a rapid response and operational solutions in combat zones and the legislative rear. In particular, the Law of Ukraine № 2136-IX was adopted on March 15 (entered into force on March 24) to "arm" labor relations for business in the realities of war. During the webinar, we will talk to representatives of the Ministry of Economy and the leading law firm Arzinger about the key changes that need to be taken into account by employers and employees.
Topics for discussion:
Key changes in labor legislation under the Law of Ukraine № 2136-IX "On the organization of labor relations in martial law."
New challenges for business and employers: evacuation of staff, optimization of further work with staff
Recruitment and dismissal during martial law, suspension of employment contracts
Interaction with trade unions under the new rules
WHEN: April 6, 2022, 12.00 p.m.
Speaker: Yuriy Kuzovoy, Director General of the Directorate for Labor Market Development and Labor Conditions of the Ministry of Economy of Ukraine
Moderator: Alesya Pavlinska, Advisor to Labor and Corporate Law Practitioners, M&A JSC "Arzinger"
REGISTRATION at the link:
https://forms.gle/Dt9bm7h9XYDm5TuY7
Video recording and live broadcast will be available here - on the UNIC FB page.
You can find all the videos and subscribe to the new ones on the Youtube page of the Web: https://www.youtube.com/channel/UCfMNFZtK-Q8Ax0HJbxVy7og
Take care of yourself and your family!
Glory to Ukraine
#Sustainable_Business_InWar_Conditions #UNIC #economy_Ukraine #WarInUkraine #compliance #integrity #комплаєнс #StandWithUkraine