V International Forum of Corporate Directors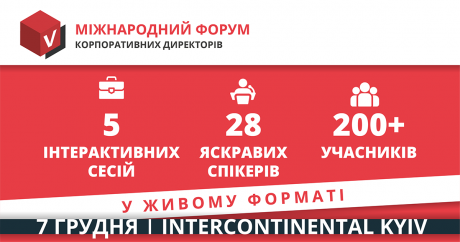 Special conditions of participation for UNIC participants and partners
The loudest event of the year in the world of Corporate Governance!
The V International Forum of Corporate Directors with the informational support of UNIC will take place on December 7 in Intercontinental Kyiv LIVE.
5 reasons why you should be on the Forum:
Want to think bigger?
Can't find an investor to grow your business?
Have you long dreamed of becoming a member of the supervisory board of a top company?
Do you want to personally communicate with the best corporate directors of Ukraine?
Are you waiting for the opportunity to learn cool insiders and hear real cases of real companies?
Representatives of top companies of Ukraine and the world - Nova Poshta, DTEK, PrivatBank, Vasyl Kisil and Partners, Morgan Stanley, International Finance Corporation (IFC), Center for International Private Entrepreneurship (CIPE), and starboard members such as Sviatoslav Vakarchuk will gather at one platform. Olga Bogomolets and Viktor Yushchenko.
5 interactive sessions on the peculiarities of the activities of supervisory boards in the new reality
28 bright speakers, including members of supervisory boards, boards of directors, and boards of leading Ukrainian companies and recognized Ukrainian and foreign experts in the field of corporate governance
More than 200 members of supervisory boards, boards, owners and managers of companies, leading consultants and professionals in the field of corporate governance, a live format of communication, and the opportunity to ask what is really important to you!
UNIC participants and partners receive a 10% discount on participation in the Forum according to the UNIC promo code, which is indicated in the comments to the registration https://forms.cgpa.com.ua/crm_form119/
You can get acquainted with the detailed program at the link:
We meet live in compliance with all quarantine requirements, frank conversations off the records, and quality networking of the highest level! There will be no online broadcast!
Date: December 7, 2021
Venue: InterContinental Kyiv Hotel, Velyka Zhytomyrska Street, 2A.
The participation fee is UAH 10,000
The forum is supported by:
General partner: Nova Poshta company
Official legal partner: Vasil Kisil & Partners Law Firm
Official energy partner: DTEK Energy Company
Official HR partner: Boyden
For more information about the Forum, please contact Irina Bilyachenko or Maya Shokalo:
Tel: (044) 22-88-759, 278-12-52, e-mail: info@cgpa.com.ua