ATTENTION! The recruitment of experts to the UNIC Agro-Products Group has been extended until March 10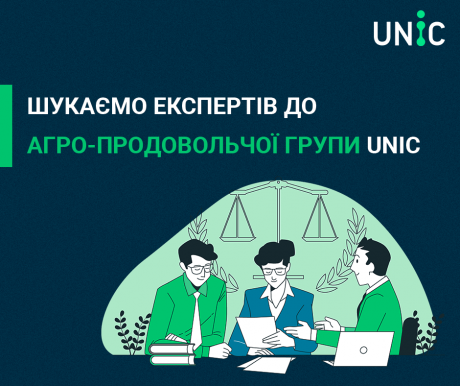 ATTENTION! The recruitment of experts to the UNIC Agro-Products Group has been extended until March 10!
The group's work will study the current systemic problems of the agricultural sector related to unscrupulous practices, prepare joint proposals for solving them according to the compliance principles, and implement such solutions by establishing a productive dialogue with authorities' representatives.
In the final result, thanks to the group's work, we should get the formation of a general vision in the Ukrainian agricultural business community regarding sustainable, stable, and inclusive development of Ukraine as a whole and agribusiness in particular.
UNIC plans to approve the staff and start full-fledged group work in March 2023. In such an expert group, UNIC intends to involve Ukrainian agribusiness representatives, distributors, trade networks, and representatives of international and public organizations. The group's coordinator will be Mykola Babenko, Chairman of the UNIC Executive Committee and the CoFarming Ukraine Board.
If a company representative is interested in participating in this expert group, please send the candidate's CV to the UNIC Secretariat at the e-mail box info@unic.org.ua by March 10, including the letter subject "Agro-products expert group."
Please note that proposed candidates must:
have subject knowledge of international documents, standards, and internal legislative regulation of the agricultural or food sectors, as well as methodical and explanatory materials approved by competent authorities and law enforcement practice;
have previous work experience in the agricultural or food sector (or legal practice experience in this field).
Information about the candidate's experience and knowledge must be specified in his CV. The UNIC Executive Committee will determine and approve the expert group's personal composition.
If you have any more questions, you can call us at +38 067 544 00 93 or send a letter to the email address: info@unic.org.ua.