UNIC is launching a new grant program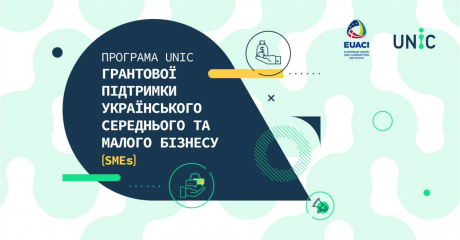 We are launching a new grant program!
UNIC is looking for a motivated Ukrainian business that is ready to open up new opportunities for development through entering international markets or attracting foreign investments!
The grant program is a response to the challenge faced by small and medium-sized Ukrainian enterprises, which are forced to look for new opportunities to preserve their own business in the conditions of a full-scale war in Ukraine.
We suggest that you apply for a grant competition that will allow you to implement compliance practices at your company, which are necessary for business development with international partners or donors.
Up to 5,000 euros will be available to small and medium-sized enterprises that work:
for the development of the infrastructure of Ukraine;
in the real sector of the economy (production of goods, construction, agriculture, etc.);
fintech and IT companies;
provide services necessary for the recovery of Ukraine.
Applications are accepted at info@unic.org.ua until October 17, 2022
Questionnaire for participation at the link: https://bit.ly/3dcPKUP
Detailed information about the grant program and terms of participation can be downloaded from the link: https://bit.ly/3eSWmbq
If your business plans to enter the international market/donors, or be a counterparty to international partners or participate in state tenders for the reconstruction of Ukraine, you have the opportunity to implement compliance practices with the help of UNIC grant.
Crises are new opportunities. Use a grant from UNIC to take your business to a new level and support the economy of Ukraine! Together - we will win!
The project is supported by the EU Anti-Corruption Initiative (EUACI) – the leading anti-corruption support program in Ukraine funded by the EU, co-funded and implemented by the Ministry of Foreign Affairs of Denmark.