We invite UNIC members to UNIC Compliance Night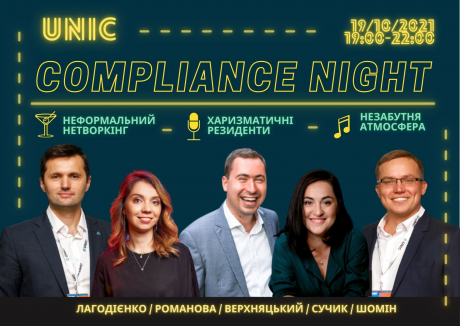 UNIC invites you to the first informal networking, where we will talk about COMPLIANCE in such an evening atmosphere.
The residents of the event will talk openly about how they conquered that predatory beast of transparency, or how they prepared this sweet cheesecake of compliance, because everyone has their own unique experience of business integrity. We invite only the closest UNIC people, so take your good mood and sense of humor!
When: 19.10.2021, 19:00 - 22:00
Where: Ioann Paul II 5, Kyiv.
Residents:
• Oleg Lagodienko
• Vladislav Romanov
• Pavlo Verkhnyatsky
• Olena Suchik
• Mykhailo Shomin
* Networking for UNIC participants and partners for additional information contact daria.bilinska@unic.org.ua