JOIN UNIC AT THE HIGH LEVEL DISCUSSION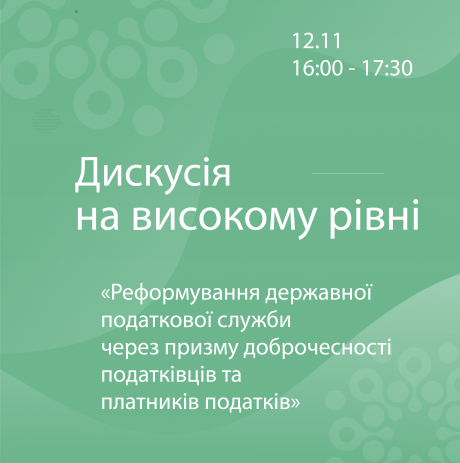 Reforming the State Tax Service through the lenses of the tax officers and tax payers integrity
November 12, 16:00 – 17:30
Could we say the honest taxpayers are protected in Ukraine? Do they feel respected by the State? How the tax authorities are changing their approach not only to control and deduct taxes, but also motivate Ukrainian business to become honest taxpayers? Join the High-level discussion organized by the Ukrainian Network of Integrity and Compliance to learn more with our panel of experts.
Moderator: Tetyana Korotka, Deputy Business Ombudsman, member of UNIC Executive Committee
The event is free of charge, please register now: https://zoom.us/webinar/register/WN_-UJmDc7UQ9u8OzPQNumJ3A
Speakers:
Oleksiy Lyubchenko, Chairman of the State Tax Service of Ukraine
Enriko Aav, Senior Economist International Monetary Fund
Olga Savran, Manager of Anti-Corruption Network for Eastern Europe and Central Asia (ACN), OECD
Ivan Sakal, CFO of Agrofusion
Arne Jacobsson, Director/Long-term Expert in Ukraine Swedish-Ukrainian Partnership for Modern and Efficient Tax Service – METS
The main issues for discussion will be the implementation of the plan to reform the State Tax Service, approved by the Resolution of the Cabinet of Ministers No. 542 on July 5, 2019 "Some issues of implementing conceptual areas of reforming the state tax and customs policy system", in particular:
strategies to stimulate tax discipline by taxpayers;
risk-oriented approach to tax supervision;
integrity and responsibility of tax officials;
introduction of tax compliance at the enterprise level.
As a result of the discussion, participants are expected to discuss the next steps required to advance joint effort for tax reforms. We invite members of the Ukrainian Network of Integrity and Compliance, as well as other representatives of Ukrainian business to join the discussion. It would be a unique opportunity to clarify the trends in tax oversight and adjust your internal processes in accordance with future changes.