UNIC and the Corporate Governance Professional Association became partners and agreed to promote compliance knowledge in the Ukrainian market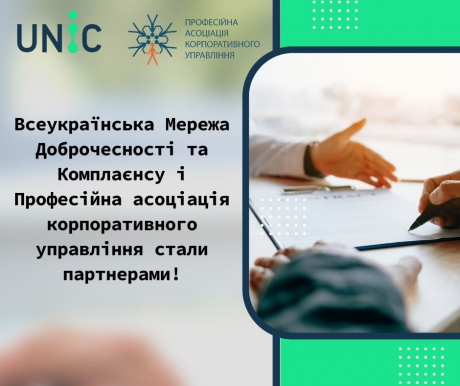 In August organizations signed the Memorandum of Cooperation. The parties will promote compliance training programs and share experience, expertise, and recommendations on tutors. Through close cooperation, organizations will be able to engage more interested businesses in learning the compliance basics and ethical business conduct. UNIC and Corporate Governance Professional Association (CGPA) also agreed on holding joint discussions and activities on improving the overall training system for compliance officers in Ukraine.

"We are pleased with the new stage of cooperation with CGPA. We are sure that the CGPA and the UNIC Academy training programs will effectively complement each other, and the dialogue on the training system for compliance officers in Ukraine will be brought to a practical level," - noted Antonina Prudko, Head of the UNIC Secretariat.
"Establishing a partnership for the anti-corruption compliance specialists (compliance officers) development and professional improvement is a huge step forward. It is the professional activities optimization for both organizations as well as the promotion of the revival and formation of Ukrainian companies in accordance with ESG standards" - said Oleksandr Okunev, Chairman of the CGPA Board.

We appreciate our partners CGPA for their trust, and we are sure that together we will be able to promote ethical and responsible business practices more effectively. Unity is our strength!

Information about the Corporate Governance Professional Association on the UNIC website is available at the following link https://unic.org.ua/partners/25/