UNIC has won the European Enterprise Promotion Awards (EEPA) 2023 at the national level in the category "Improving the business environment and supporting the internationalization of business" and received a special distinction award at the international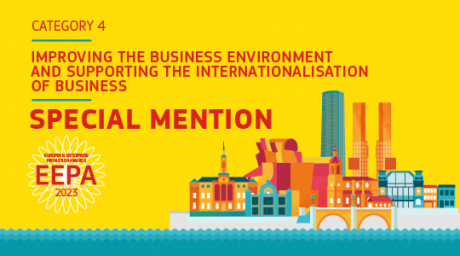 In 2023, the initiative "Spreading the Culture of Integrity and Compliance Standards among Ukrainian SMEs" by the All-Ukrainian Network of Integrity and Compliance (UNIC) emerged victorious at the national level in category 4, "Improving the Business Environment and Supporting the Internationalization of Business," at the European Enterprise Promotion Awards. This competition, organized by the European Commission, also acknowledged UNIC's efforts on the European stage.
The EERA award is presented annually to organizations and projects supporting entrepreneurship and small business development at national and regional levels. Representatives from EU countries and other European nations participate in the competition across six categories: promotion of entrepreneurial spirit, investment in entrepreneurial skills, support for digital technologies, improvement of the business environment, backing business internationalization, and support for sustainable transition, responsible, and inclusive entrepreneurship. This year, 301 projects from 30 countries participated at the national level, with 55 projects advancing to the European stage. In addition to the winners, only two initiatives, including UNIC, received a "special mention" in category 4 from the jury, recognizing their impressive contributions to SME development.
The award ceremony, attended by category finalists and representatives from participating countries, took place on November 14, 2023, during the Small and Medium Business Assembly in Bilbao, Spain. Antonina Prudko, the head of the UNIC Secretariat, had the opportunity to be personally present during the festive ceremony alongside the Ukrainian delegation.
Expressing gratitude for the recognition, Antonina Prudko commented, "It is a great honor for UNIC to be here today and to receive this special award from our European colleagues." She emphasized the importance of UNIC's integrated integrity capacity-building program, launched over a year ago, as the sole initiative in Ukraine for medium and small businesses. UNIC advocates for doing what's right, not what's easy, and believes that Ukrainian businesses have a unique opportunity to build a reputable business by adopting virtuous practices in line with international standards. Prudko acknowledged the challenges ahead but stressed their significance for the future sustainability of Ukrainian SMEs.
Antonina Prudko also extended thanks to all partners and community members for their trust, personal contributions, and commitment to spreading the culture of integrity among Ukrainian medium and small businesses. She expressed delight in the progress of the initiative and announced the upcoming completion of a special course on the basics of integrity and compliance for SMEs, developed in collaboration with last year's EEPA winners, Diia.Business. The Network Secretariat highlighted the joint efforts that led to these results and the confident strides made in elevating the level of education on integrity within the Ukrainian business landscape.