UNIC is searching for a PR manager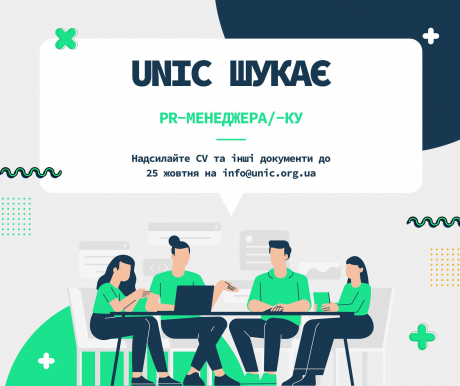 UNIC is searching for a PR manager!
Friends, we are re-opening this vacancy and would be happy to welcome a PR manager to our team who will help us strengthen our communications to promote business integrity and responsibility in Ukraine successfully.
We are searching, above all, for an experienced specialist in communications and PR and a like-minded person who will be able to form and implement an effective communication strategy for the Network with our primary audiences through creative tools. Working at UNIC is an opportunity to be involved in the development and support of Ukrainian businesses.
What are our expectations from the candidate?
Work experience in PR or communications for at least two years
Ability to think strategically and build the organization's communications, taking into account available resources, connections, and expertise
Openness in communication, the ability to talk in an interesting and unconventional way, to come up with information campaigns and implement them
Experience with social networks and graphic editors
The ability to write well in Ukrainian and English
Project management skills, the ability to independently organize work by direction
What do we offer?
Interesting professional challenges
Professional development in the team
Good working conditions, possibility to work remotely or in the office
Decent pay and full employment
Medical Insurance
Friends and partners, we will be grateful for this vacancy's distribution and the professionals' recommendations.
Full job description, qualifications, and documents required for application are available at: https://bit.ly/3STBX5e.
Please send applications to the email address info@unic.org.ua. In the letter's subject, please indicate "UNIC PR manager." The application deadline is October 25, 2022.
Pay attention to the documents required for participation in the selection - the candidacy will be considered only if ALL DOCUMENTS required by the Terms of Reference are submitted.