UNIC is searching for service delivery experts within the grant program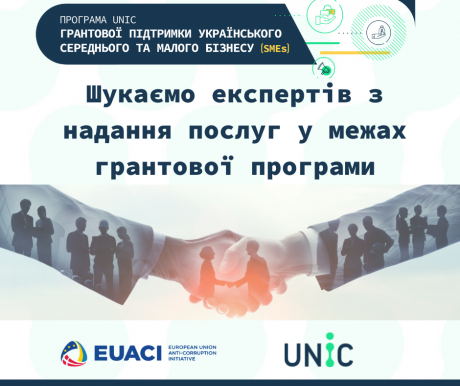 UNIC is searching for service delivery experts within the grant program.
We announce the consulting companies' selection among the Network's members to provide services for the compliance systems development for the UNIC pilot grant program's winners.
The list of works and their scope will depend on the grantor company's size and needs (small or medium enterprises). The services will be provided at the UNIC Secretariat's request and will be performed in whole or in part, depending on the grantor company's need and commitment.
Tender winners are expected to perform the following tasks:
▪️ Audit of the general compliance level and operational risk, including self-assessment
▪️ Resources assessment and planning for the compliance system functioning in the company
▪️ Roadmap development for the deployment of compliance and operational risk management functions
▪️ Internal control mechanisms implementation and compliance risks prevention
▪️ Procedures implementation for interaction with the company's third parties to minimize compliance risks
About five grantor companies will be selected by November 17, 2022. The executive will have from 6 to 12 months to complete the list of works indicated above and the opportunity to conduct a post-audit 12 months after the work completion with the relevant grantor company. If necessary, the parties' agreement can change the project term.
Detailed information and requirements in terms of Reference at the link: https://bit.ly/3fJHNHo
You can read more about the UNIC grant program here: https://bit.ly/3eSWmbq.
The application deadline is until the end of the day on October 19, 2022.
Applications and clarifying questions are accepted by e-mail to the address: info@unic.org.ua.