UNIC organized a seminar for entrepreneurs in Lutsk on business scaling during wartime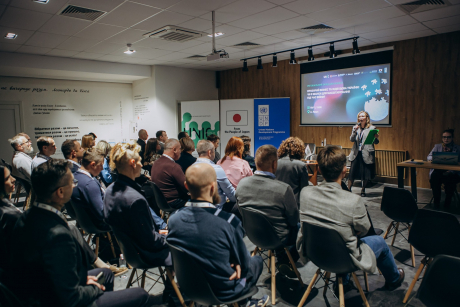 On November 3, UNIC, in partnership with the Volyn Chamber of Commerce and Industry, organized the second regional business event in Lutsk this season as part of the series "Transparent Business and Reconstruction of Ukraine: Are There Chances for Scaling During Wartime." The event received support from UNDP in Ukraine and funding from the Government of Japan.
The event brought together over 50 local business owners, providing them with a platform to discuss pressing matters related to development, scaling, and key tools for attracting investments within Ukraine's recovery projects. Participants also engaged with specialists in business development to address the challenges faced by SMEs and the significance of maintaining a strong reputation when working with partners and securing investments.
Issues that were disscused included the prevention of corruption, the implementation of compliance tools during wartime, logistic difficulties arising from infrastructure destruction, export blockades, border queues, and customs clearance issues, as well as the increasing loss of personnel and financial resources due to the ongoing conflict.
Antonina Prudko, Head of the UNIC Secretariat, highlighted that despite significant losses and business operations taking place in an environment of uncertainty, various opportunities and initiatives from the government, international financial institutions, and donors are now becoming available for Ukrainian SMEs. These opportunities will not only help businesses survive in this extremely challenging period but also support their growth and entry into new markets. She emphasized the importance of implementing effective and efficient compliance within companies right now, as it directly affects their business reputation and serves as one of the criteria considered by investors, donors, and financial institutions when allocating funds.
Oleksandr Smolych, President of the Volyn Chamber of Commerce and Industry, underscored the relevance of organizing informative seminars for local businesses. He expressed his gratitude to all participants for their presence and their interest in the topics of integrity and anti-corruption.
UNIC extends sincere thanks to the speakers for their valuable insights, to the proactive participants, and to the event's partners: the Volyn Chamber of Commerce and Industry, SKF Ukraine – a UNIC member company, UNDP in Ukraine, the Ministry of Community Development, Territories and Infrastructure of Ukraine, the Office of Entrepreneurship Development and Export, the national project Diia.Business, and the Volyn Regional Union of Employers' Organizations.