Open position of Head of the UNIC Secretariat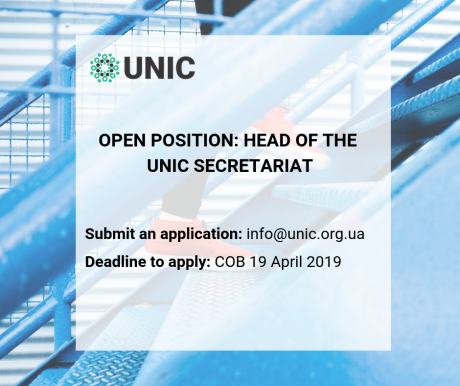 The Ukrainian Network of Integrity and Compliance announces about an open position of Head of the UNIC Secretariat
Are you an experienced expert in the field of compliance and anticorruption? Are you willing to support fair conditions for doing business successfully in Ukraine? Business ethics and integrity are core principles of your professional activity? Join the UNIC team!
Complete position description, qualifications, and documents required to submit are available at the link: http://bit.do/eNtwM. You are invited to send your application via e-mail to: info@unic.org.ua. Please indicate "UNIC Head of Secretariat" in the subject line of the e-mail. The deadline for submitting an application is by the end of the business day on 19 April 2019.
Only shortlisted candidates will be contacted for an interview. Questions should be directed to the above mentioned e-mail only. Should you have any questions relating to the submission, please contact the Secretariat at tel.: +38 044 237 74 53.