UNIC held Annual General Meeting on 18 April 2019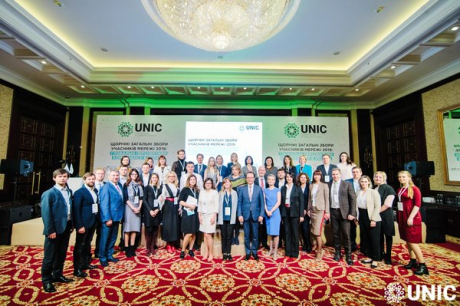 On 18 April 2019, UNIC held the second Annual General Meeting of Members. The event gathered more that 100 participants, including representatives of businesses, government bodies, donor financed projects, as well as leading business associations.
The topics introduced:
the role of UNIC operation in improving business attitude to compliance in Ukraine;
global compliance and business integrity trends;
UNIC tasks and objectives for 2019-2020 and election of an Executive Committee member.
Key conclusion made: Ukraine has a growing interest in business integrity.
"56% of businesses are of the opinion that it is possible to work ethically in Ukraine with no corruption practices applied, and 80% of respondents claim that reputation and integrity of a counterparty are important to build business relationship", - comments Ganna Gerasymchyk, Head of the UNIC Secretariat. "UNIC promotes business integrity being an educational platform of best international compliance practices, as well as develops the tools that help implement ethics and transparency policies in companies."
Such issues were raised during the Meeting:
The role of business in implementing anticorruption reforms in Ukraine efficiently
Importance of continuous communication about compliance benefits for businesses
Global compliance trends that impact compliance practice development in Ukraine.
As part of the Meeting, UNIC members approved the Annual Report for 2018, the Tasks & Objectives and the Budget for 2019-2020, and elected a new member of the Executive Committee.