Business Integrity Week 2019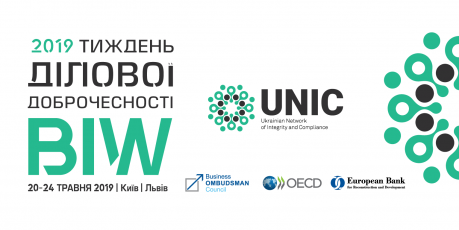 We are pleased to invite you to the Business Integrity Week that will be held from 20 until 24 May 2019 in Kyiv and Lviv.
In May 2018, the Ukrainian Network of Integrity and Compliance (UNIC) together with the United Nations Development Programme (UNDP) in Ukraine launched a series of annual events in the framework of the Business Integrity Week (the BIW) to engage business community, state authorities, civil society, business associations, educational institutions and media to promote business integrity in Ukraine.
Organizer: UNIC
With support: Business Ombudsman Council, Organization for Economic Cooperation and Development, European Bank for Reconstruction and Development
Partners and co-organizers: Embassy of the Kingdom of the Netherlands in Ukraine, CAPS Business School, Kyiv Post, USUBC, Kinstellar, CFA Society Ukraine, ADVANTAGE AUSTRIA in Ukraine
The BIW is aimed at:
Promoting compliance and business integrity by giving best practices and case studies
Establishing dialogue between business and government to improve governance and investment climate in Ukraine
Support of and collaboration between business community, civil society and media to work on culture of integrity in Ukraine
Participants:
CEOs, top-management, heads of departments of companies operating in Ukraine, including private and state-owned companies
Ukrainian representative offices of multi-national enterprises
Representatives of state bodies and civil society groups
Large, small and medium size enterprises in all sectors of activities
Business associations, investment funds, embassies
Cost: participation in the events of the BIW is free of charge upon prior registration.
Please find more information about the topics and speakers in the Agenda available at the link: http://bit.do/eQJd6.
Registration is required for each day separately. Please follow the link to submit your application: http://bit.do/eQJyZ.
You will receive an email stating your registration status within 3-5 working days as of a submission date. Deadline for registration is COB 17 May 2019. The registration may be closed before the deadline if venue capacity is reached.
Should you have any questions related to registration or other queries please contact Daria Bilinska at tel.: +38 067 372 33 06 or by e-mail: info@unic.org.ua.
The event will be conducted in Ukrainian with Ukrainian/English simultaneous interpretation where required.