Terms of the UNIC grant support program for Ukrainian small and medium enterprises (SMEs)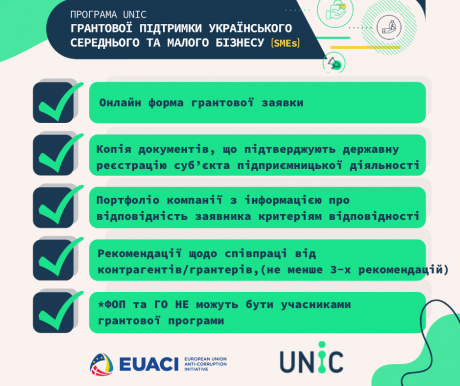 We have been receiving applications for the grant program for three weeks now, and we thank everyone for your attention to the competition and your active participation.
However, we see many public organizations and individual entrepreneurs among the applicants. Please note that participation is possible only for officially registered legal entities - representatives of medium and small businesses. Individual enterprises and NGOs may NOT be participants in the grant program.
We also emphasize that the Google form is not the only document required for participation in the program. After filling it out, you must submit the following package of documents:
Online grant application form at the link: https://cutt.ly/HC8yWjb2
A copy of the documents confirming the state registration of the business entity
A company portfolio, which will include information on the applicant's compliance with the eligibility and pre-selection criteria, as well as contact information for the Network Secretariat
Recommendations for cooperation from counterparties/grantors, which will include contact information (at least 3 recommendations)
Documents must be sent to the e-mail address: info@unic.org.ua
We remind you that the deadline for submitting documents is October 17, 6:00 p.m. Kyiv time.