Ukrainian Business Forum 2019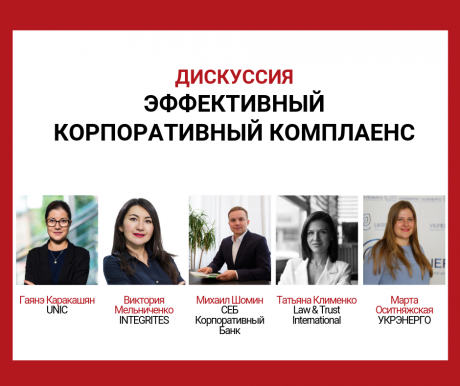 Yesterday, on 24 September 2019, the Ukrainian Business Forum 2019 took place.
During the session on Effective Corporate Compliance the following questions were discussed:
Why do Ukrainian companies need a compliance program? What benefits are there in the case of its implementation and what risks are there due to its absence?
Compliance in Ukraine - how does it work?
Creating effective compliance functions in the company
Key compliance risks and instruments for their reduction in the context of adaptation of the procedures of international companies in Ukrainian representative offices
The moderator of session was Gaiane Karakashian, Head of the UNIC Secretariat. Among the speakers of the discussion: Mykhailo Shomin, SEB Corporate Bank; Victoria Melnichenko, Integrites; Marta Osytnyazhska, Ukrenergo; and Tatiana Klimenko, Law & Trust International.
There is never enough of the compliance discussions taking place. Thus, we hope compliance topic to be not only relevant and trendy, but also important and a must-have of businesses in Ukraine.